Read an extract from Brave Hearted by Katie Hickman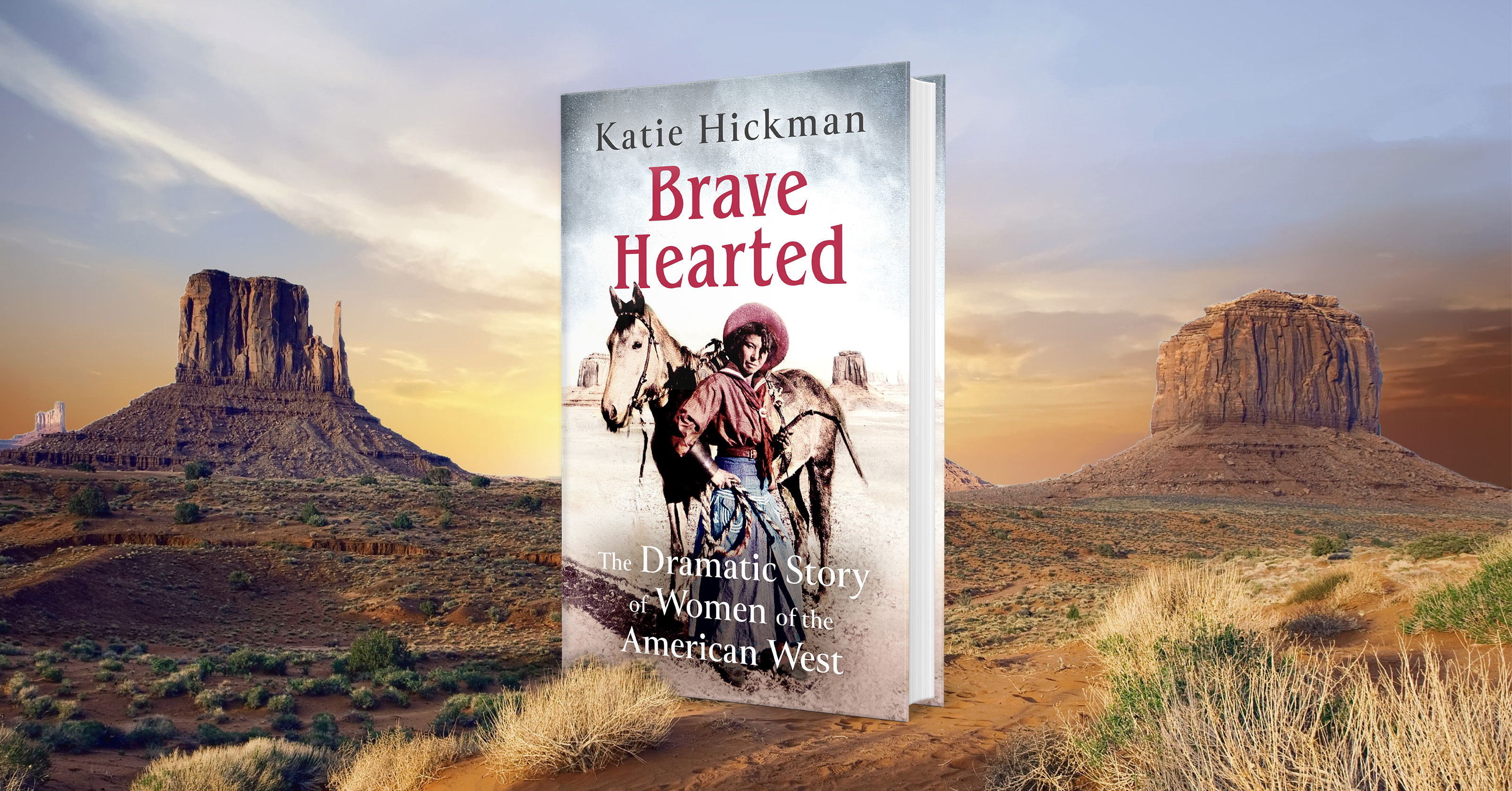 The true-life story of women's experiences in the 'Wild West' is more gripping, more heart-rending, and more stirring than all the movies, novels, folk-legends and ballads that popular imagination has been able to create. Read an extract from Brave Hearted by Katie Hickman and meet the women of the American West. 
Midsummer, 1836. High in the immense fastness of the Rocky Mountains, a caravan of heavily loaded pack- animals was making its way slowly west. Four hundred mules, dozens of horses and cattle, nine wagons and a cart were accompanied by more than seventy men. After more than three months' hard travelling, the company had now almost reached its destination: Horse Creek, a particular spot on the banks of the Green River, in the present- day state of Wyoming, which loops its way across a high, gently rolling plateau surrounded on all sides by snow- capped mountains. The caravan, moving along in single file, covered such a distance that it would have seemed to any outside observer like nothing so much as a moving village.
The men driving this dusty convoy were employees of the American Fur Company. They had set out from St Louis, Missouri, that spring, and their destination was an extraordinary mountain trade fair known as the Rendezvous.
For two weeks every year, as many as four hundred fur trappers, many of them with their Native American wives and children, would come together at a pre- appointed spot on the banks of the Green River to await the arrival of the caravan. For these mountain men, the Rendezvous was not only an opportunity to sell the animal furs they had been collecting all year – beaver, buffalo, marten and mink, otter, skunk, muskrat and badger – and exchange them for much- needed supplies from St Louis, it was also the great social occasion of the year. The Rendezvous was a wild, two- week- long fiesta in which men who throughout the whole of the preceding year had been living a bitterly hard, cold and often solitary life in the wilderness could meet their friends and drink, carouse, gamble and horse- race to their hearts' content.
These mountain men were not the only ones to assemble at the Rendezvous. As in previous years, perhaps as many as five thousand Native Americans were also congregating there. For several days before the caravan arrived, men, women and children of the Shoshone, Bannock, Nez Percé, Cayuse and Flathead nations, together with their dogs pulling heavily laden travois, and as many as ten thousand of their horses and mules, had also come pouring into the lonely valley. As if by magic, a vast tented city had sprung up almost overnight. Hundreds upon hundreds of lodges stretched for as far as six miles on either side of the Green River, their white skin hides glinting in the thin mountain sunlight.
Woodsmoke from a thousand camp fires filled the air. Men, women and children moved freely between the camps. Warriors, their faces decorated with vermilion, white and ochre paint, careened on their horses. Their hair, which they wore long and loose, sometimes hanging down almost to the ground, was fastened with shells and fluttering prairie cock feathers, their shirts and leggings 'ornamented with small blue and white beads and coloured porcupine quills'. Sometimes they wore a leather fringe over the seams, at other times, as one contemporary American observer would describe, 'human hair, dyed of various hues, which is obtained from the scalps of their enemies'. Some had pendants made from shells hanging from their ears, or a flaming red blanket thrown over one shoulder. Many carried rifles, or bows and arrows in otter- skin quivers at their backs.
The women were no less richly dressed. They wore long gowns made from soft leather, 'decorated about the neck and shoulders with all the beads they can procure, short leggings, moccasins, and a light robe thrown loosely, yet gracefully, over their shoulders'. Like the men, the women were 'very fond of decorations, vermillion, trinkets, shells etc.' attached to their dresses.1 Sometimes their robes were loaded with as many as 'eight or ten pounds of large cut glass beads of various sizes'.2 Their leggings and the tops of their moccasins were ornamented with porcupine quills, or small beads. 'They are trimmed off in high style, I assure you,' wrote another observer. One woman rode 'a beautiful white horse, her saddle ornamented with beads and many little jingles, a beautiful white sheepskin covering for the horse, cut in fringes half a yard deep, ornamented with collars like little bells, making a fine jingle as she rides along. Then comes the rider with her scarlet blanket, painted face and handkerchief on her head, sitting astride.'
To the Native Americans, the mountain men, dressed in clothes and caps stitched from their own furs, usually the cheaper grades of skunk, badger and muskrat, presented no less marvellous an appearance. On their feet they wore moccasins made of tough buffalo hide, smoked so as to preserve their shape. After their long sojourn in the mountains, their hair was long and shaggy, and their beards had grown down to their chests. 'On looking close, as we children used to do,' recalled one Lakota woman, 'they did not look like human beings. They looked more like animals with bushy heads, for there was no part of their faces that could be seen but their blue staring eyes.'4 And everywhere the mountain men went there was music. 'When one approached one of these camps, you could hear the sweetest strains of violin music. Sometimes a deep voice would break out in a foreign song and a chorus would start, to end with shouts and laughter.'
The Rendezvous of 1836, however, would prove to be different from all the others, when, for the first time, two white women rode into the camp.
Narcissa Whitman and Eliza Spalding were Presbyterian missionaries from the east. Their arrival at the Rendezvous, on 6 July, caused a sensation. 'The American Fur Company caravan, was accompanied by Doctor Marcus Whitman, and lady, Mr H.H. Spalding and lady, and Mr W.H. Gray . . . on their way to [Oregon] to establish a mission among the Indians in that quarter,' recorded one of the mountain men who was present at the gathering that day. 'The two ladies were gazed on with wonder and astonishment by the rude savages,' he wrote, 'they being the first white women ever seen by these Indians, and the first that had ever penetrated into these wild and rocky regions.'
Although on their six- month journey both women wrote about their experiences, it is a striking fact that the Rendezvous, surely one of the largest and most fantastic spectacles in all the American West, merits barely a mention either in their journals or in the numerous letters they wrote home to family and friends. Despite spending two weeks in their own camp on the banks of the Green River, holding prayer meetings, handing out Bibles and making preparations for the final 600 miles of their journey to Oregon, neither woman felt moved to describe it.
Perhaps it is not entirely surprising. Narcissa Whitman and Eliza Spalding's mission was not to witness the west so much as to change it; although no one who was present at the Rendezvous that day, perhaps least of all the women themselves, could have anticipated just how great these changes were going to be.
Until now the gruelling 2,200- mile overland trek, west across the Rocky Mountains, had been considered an impossible one for a white woman to undertake. In 1836, Narcissa Whitman and Eliza Spalding proved it could be done. And if they could, then it was only a matter of time before others would follow.
A crack had appeared in the door leading west, and things would never be quite the same again.
Get pulled in by the book:
"Myth and misunderstanding spring from the American frontier as readily as rye grass from sod, and - like the wiry grass - seem as difficult to weed out and discard."

The true-life story of women's experiences in the 'Wild West' is more gripping, more heart-rending, and more stirring than all the movies, novels, folk-legends and ballads that popular imagination has been able to create.

Whether they were the hard-drinking hard-living poker players and prostitutes of the new boom towns, 'ordinary' wives and mothers walking two thousand miles across the prairies pulling their handcarts behind them, Chinese slave-brides working in laundries, or the Native American women displaced by the mass migration of the 'whites' to their lands, all have one trait in common: that of extreme resilience and courage in the face of the unknown.

Reading the extraordinary accounts they have left behind them, their experiences seem as strange to us today as it must have been to have lived through them, perhaps even stranger. They were put to the test, in terms of sheer survival, in ways that we can only dimly imagine.

Praise for Katie Hickman
'Fascinating . . . I was swept along by Hickman's concise chapters and her crisp, wry style,' The Times

'Absolutely brilliant . . . remarkable women, until now almost unknown. I was so gripped I couldn't put it down' Antonia Fraser

'Goes beneath the surface of imperial male history . . . a cast of extraordinary women. Wonderful' Anita Anand