Read an extract from Before The Light Fades by Natasha Walter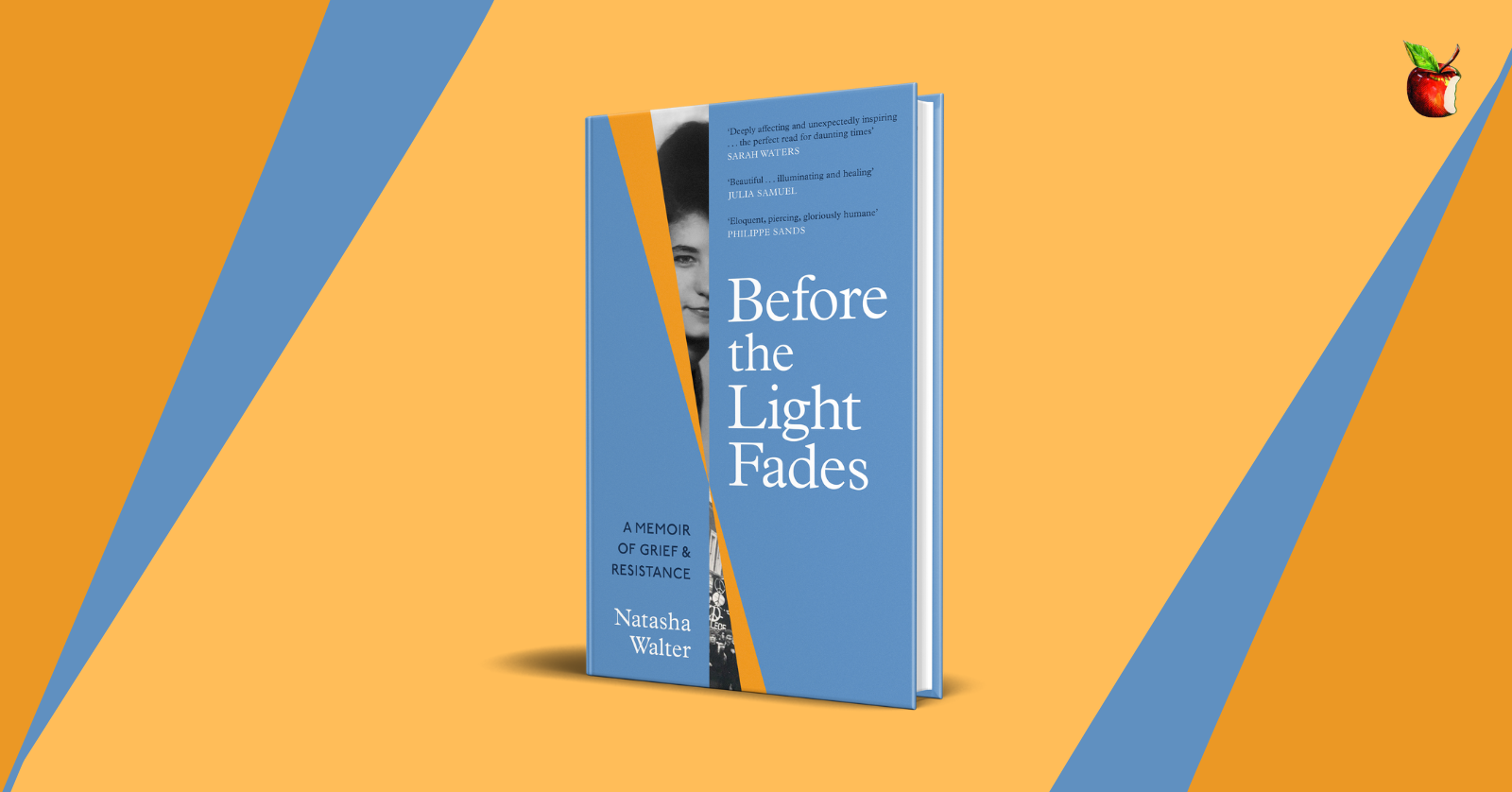 'Deeply affecting and unexpectedly inspiring… the perfect read for daunting times' SARAH WATERS
'Beautiful… illuminating and healing' JULIA SAMUEL
'Eloquent, piercing, gloriously humane' PHILIPPE SANDS
From the acclaimed writer and thinker, a moving memoir about losing her mother to suicide as well as honouring the legacy of a family whose members struggled bravely against some of the worst crises of the twentieth century.
Read on for an extract from Chapter 1:
This is what people say to you when you tell them that your mother has just died.
Was it expected?
Often, I said no. Sometimes, I said yes. Yes, it was expected. But not by me.
My mother expected it. That's not quite the right verb. She planned it. She planned her own death. And she told us to expect it, but I didn't.
Wasn't I listening? Didn't I believe her?
I misjudged her. But would you have expected it? If you had met my mother in the last years of her life, when she was in her seventies, you would have been aware of her timidity. Although she had strong opinions, she moved uncertainly through the world. She was nervous of journeys.
This timidity, in fact, often infuriated me. She was likely to panic when she had to pack for even a small and easyholiday, a straightforward there and back again. She would go over and over the possible missteps. Would she forget herpassport? What shoes would she need? Would there be towels?
As long as I could remember, I was impatient with this fear. When, in my own middle age, I found myself becoming infected by a sense of disintegration as I packed for a few days in Suffolk – in my youth I could go off to Saudi Arabia or Afghanistan with less anxiety – I recognised it as an inherited trait, though that made it no easier to accept.
For my mother, this anxiety around setting off on a journey had always been there, or if not always, then as long as I had known her. Among her papers after her death, I found a letter I wrote to her from Italy in 1985. I was eighteen and she was forty-three. I was an au pair girl in Florence and she was flying out to visit me. With laboured care, I put in every detail of what she had to do on arrival. It reads as if she were my daughter. 'To your left is the loo. Then follow the signs to the train . . . Walk to the end of the platform and stop dead. I'll find you there!'
So how could I expect that she would set off on the longest journey, so decisively, alone?
How could I expect that courage?
I did not expect it. I did not expect my mother to kill herself.
Yes, she told me.
But for a long while, for the year leading up to her death, for the weeks leading up to her death, I kept my face turned away from the future, from the darkness, from the ending.
After her death, I try to keep alive the last time I saw her, in an effort to keep her alive.
If I don't remember, if I start to forget, then she will really be gone.
It was a Monday. I had taken a day off work, because of this crisis that seemed to be brewing with her. I was afraid of something, of her sadness, of her apparent decision to start cutting away from us.
In fact, for a long time my mother had been saying, you know that when the time comes I will kill myself.
But even when she said it, it never took shape to me as a definite possibility. My sister and I asked one another, what does she say to you? What do you think she means? My partner and I discussed it. She is lonely, he said. We talk almost every day! I said. That doesn't mean she isn't lonely.
And when someone says something like that for years, and never does it, maybe you stop hearing it. Or you stop believing it. In fact, it seemed to be something that she said rather lightly, in the way that another mother might say, I won't be around for ever you know. A tone that you associate with older women when their children and grandchildren seem to be taking them for granted, a tone to pull their relations back in and make them notice them again. A tone that doesn't necessarily alert you to a crisis. A conversation that seems likely to continue, over and over again, and not come to a sudden end.
So that wasn't what frightened me. What frightened me was not the repetition of that old line, but the fact that she was behaving in strange, new ways. She gave away, one by one, pieces of family jewellery. We are not a wealthy family, but her mother and her mother's best friend had left her a few bits of the kind of jewellery that north London Jewish women liked to wear in the second half of the twentieth century. A diamond brooch, an amethyst ring, a pearl necklace, in heavy settings.
The ugly diamond brooch she had remade into two pretty rings and a pair of light earrings for my sister, my daughter and my niece. I was to have the double-strand pearl necklace with a topaz and gold clasp. A beautiful necklace in itself, it transformed itself when on my neck into something stuffy and plastic looking. She gave it to me in January 2017, on the day of my fiftieth birthday, the beginning of her last year. At the time I thought it was sweet of her to give me something so precious, although I didn't think I would ever wear it. Now, I think that was a way of telling me it was my turn. The little that we had in the way of family heirlooms was to be passed on.
And in November something else changed. She stopped making plans. She had always been the one who said in September, what are we doing at Christmas, the one who said in January, are we going to Walberswick this summer. But all of a sudden that stopped. In November, I asked her about arrangements for my daughter's birthday in December, and she said she couldn't plan for that. I asked her whether she wanted to go to the theatre over Christmas, and she said she didn't want to make any arrangements.
And then she sent an email inviting everyone in the immediate family to join her for lunch in a restaurant in Golders Green. It was not a birthday, it was not an anniversary. In the customs of our family, this was unusual, to go out all of a sudden for a restaurant lunch when there was no particular celebration.
We all went along, as if it was normal. Ten of us around the table. My mother, my sister, me, and our partners and children. She gave each of us an envelope, for later. Later, we found in them kind cards and wodges of cash.
What did she mean by that, I asked my sister. I have no idea, she said.
Looking back, it seems so obvious that that was a farewell lunch. But at the same lunch she asked about whether we would all go to Bournemouth with her the following spring. She spoke to me about some upcoming treatment she had planned for an enlarged mole on her cheek. So there was still a projected future. No wonder I did not feel that there was a sense of an ending. In real life, in everyday life, there are these contradictions, and people say one thing and then do another.
And so she went on, scaring us and reassuring us. And then finally my sister went round to her flat one Sunday and confronted her, and asked her why she was being so odd, and she said, I think it is time. Then for a while we all tried to do this impossible thing, which is to try to tether someone to life when they are moving away, tying knots in the ropes of love and memory while they are just as busily untying them.
On the second Monday in December, I took a day off work, and asked my mother out to lunch. I felt that I couldn't wait till the weekend to see her, which is what we would usually do.
So yes, I knew there was trouble.
And no, I had no idea that this was our last lunch.
I chose the restaurant. One of those urban, cavernous restaurants pitched at King's Cross hipsters, serving Indian street food. It seemed perfect for my seventy-five-year-old mother. She sat there in her plain shirt and jeans, her long white hair tied back, and seemed pleased with everything.
We read every line of the menu. We discussed at length what we wanted to eat. Typically, during this discussion, she got into a conversation with a young Indian man at the next table about what he was eating, was it good, should she order it, did he come here often?
Her openness to strangers and desire to ask them genuine questions and listen to their answers used to annoy me. It made meals and days out go so slowly, with so many conversations to endure. She never seemed to pre-judge people, as being more or less worthy of a conversation, she allowed anyone and everyone to impinge on her. In that moment when her interest turned to that stranger, I had to keep myself from snapping at her, pulling her attention back to our table. The young man was charming, however, talking her through what he was eating, recommending other dishes.
When she looked back at me, I wondered about ordering the squid. That was not a good suggestion. We had, like so many people in the UK that week, been watching Blue Planet II on the BBC. She had been deeply, surprisingly deeply, touched by it. 'It's something I've always believed, and now there it is,' she said to me, letting the menu fall to the table. 'How the fishes are so intelligent. How they feel. Did you see the whale carrying her dead child? Did you see the octopus who got to know the diver?'
We talked for a while about the whale who had grieved the death of her baby and carried its body through the ocean with her and the octopus who built its own armour out of coloured shells. This sudden expression of extreme empathy with the great sorrows of the natural world surprised me. I knew that, like many of us, she had become sick at heart as she became more and more aware of how the planet was being destroyed and saw all the dishonesty and muddle that prevented anything being done about it. But I did not realise how much she was grieving these hidden sorrows.
So we ordered the dal and the jackfruit. The man at the next table said it was a good choice. Fair-weather vegetarians, as always.
After the meal, we walked along the canal. We talked about how fragile the new development of the city seems to be. We both felt, among these steel and glass towers that rise so far above the little humans who crawl below them, that these must be the slums of the future. They are surely too hubristic. They feel like symbols of a world drunk on its own crazy power, on the idea that we can build and grow our way out of trouble. A world in denial. But we did enjoy ourselves too. My mother is, was, one of those people who can be delighted and transfixed by the smallest pleasures. At the same moment that we were complaining about how the old King's Cross had disappeared, we were also enjoying the new King's Cross. We got a coffee in a chichi café next to the canal. It was strangely warm on that December day, in the afternoon sunshine. There were blankets laid out on the chairs, but we didn't even need them.That unseasonable winter warmth, both troubling and comforting.
Our mood lightened. Swans passed by on the dirty water, ploughing their fine proud way. We talked about my children, about something funny that my son said the other day and about my daughter's art project. We talked about #MeToo. This was the moment when the movement was taking off, women were speaking out, not only the American film producer but also a Conservative MP were in the spotlight that week.
This was not a theoretical discussion for us; both of us had lived lives studded with feminist action, we had both marched and written and spoken over decades, trying to find the pathways to change, to ensure that women were no longer silenced. It felt as if we had both come to a turning on that path. There had been a time, my mother said, when you just had to accept it all. The hand on the knee or the quick grope. Clara does not feel that, she said, referring to my daughter, so life will be different for her. Though her words were positive, her tone did not carry hope so much as a sense of assessment; it felt as though she was looking back down a long road.
And of course, because we came from that place of shared understanding, we could also talk about the gritty path that was still underfoot. We talked about how there are also those unknown areas, that even when two people seem to be sharing an experience, they can be living two different stories. We spoke about a woman we knew who had been an unreliable narrator, whose stories had been adrift from reality. And then our conversation moved on. We talked about a memoir I had given my mother to read, we talked about rats in the city, we talked about the cats we used to have when I was a child.
Apparently apropos of nothing at all, she told me that if I ever needed it, the key to her locked cabinet was in the drawer of her bedside table. I looked away, at the swans. 'You're not listening to me,' she said. 'No,' I agreed, in a light voice, 'I'm not.' I didn't want to hear this, why I might need that key. That little key, which she needed. So I went on talking about politics, memories, children.
I could not imagine then that this would be our last lunch together. The last of those important unimportant conversations that had studded our five decades of conversations. It's impossible to imagine the sound of silence.
I left her at Euston station, waiting for her train back to Watford.
Long white hair, pale grey anorak, reading the newspaper.
Four days later my mother took her own life.
The day itself, that's a day that blurs in memory.
It started for me at the Southbank Centre, where the refugee women I work with were presenting a drama performance to a small, invited audience at lunchtime. We gathered in the morning to rehearse. I know that I was there. I know that all morning women came and went in the studio, carrying chairs, putting out drinks, repeating lines,getting dressed. But if I look into the memory, if I try to catch an image, a phrase, it is as though someone has tipped black ink into it. The ink spreads. I can see nothing. Not a face, not a colour, not an image. I can hear nothing. The ink is spreading out from the messages I was sending all morning to my mother, and when she did not respond, to my sister.
My sister lives just around the corner from my mother. At first we dismissed the fact that our texts to my mother were going unanswered. And then we allowed our fears to surface, and my sister walked round to see how she was. And then she rang me, to tell me that the curtains were drawn in my mother's flat and she was not answering the doorbell. The ink floods. The darkness spreads.
And then I'm running through Euston station to get on a train to Watford. Images come back, with an edge of coldness. A very polite policeman in my sister's sitting room. A small glass of sherry, so old fashioned, in my hands. A letter, typewritten, rather formal. The weight of my daughter's head on my shoulder as she cries.
No image of my mother, though. Because that view of her at Euston station – white hair, grey jacket, reading the newspaper – that one had become final. We did not go into her flat the day that she died.
We could only imagine it, from what the policeman said. It was peaceful. She was in bed.
Later, we could construct what she had done. Later, we learned that she had ordered the poison on the internet years before. That she had kept the bottle until the time was right. That she had gone to bed with a drink, with the poison, and with a picture of her grandchildren beside her, for a last look.
Later. But not now.
The police brought us the farewell letter they had found on the bedside table. So although she was no longer there to speak to us, her words reverberated. And yet the letter seemed strangely impersonal. It seemed to be written for an audience that was not precisely us.
The day afterwards, we went into the empty flat. And then I remembered what I had not heard at the time, and told my sister where the key to the locked cabinet was. We opened it, and found a book, The Peaceful Pill Handbook, published by Exit International, and here were two letters to us.
These letters were more personal, perhaps. But we both could only glance at them in a sideways manner, as though the charge they held was too dangerous to detonate. I put mine in my bag, and vowed to read it properly soon, soon. My mother had been preparing for her death for a long time, and so it was hard not to find significance in everything that she had left in her flat. She had, for instance, left biscuits and fruit on the table and soup in the fridge. 'She left them for us to eat while we were doing this,' said my sister, as we sat in the flat in the first days after her death.
We were already trying to take those steps that you have to take, in the aftermath of a death, steps to tell the authorities, to speak to the police, to the hospital, to the coroner, to the banks, to the neighbours. As we picked up, here and there, in her flat, the things we needed in those first days, we found the letter she had wanted us to send to all of her friends. It was short and succinct.
Hi
I am writing this, for my daughters to send, to let you know that I have killed myself. I always wanted to, when I felt it was the right time, when I could make my own choice. I decided to do so this year whilst I am still happy but very aware of my failing memory and health.
I have been a member, on and off, of various societies such as the Euthanasia Society and currently Dignity for Dying, and so this probably comes as no surprise. Politically I think all people should be able to make this choice without it being illegal and so difficult.
Please be happy for me to have successfully achieved what I wanted to. I have been so lucky in having you as a friend. I wish I could have said all this to you personally but the law does not allow for that, so this will have to do.
I hope the rest of your years will be happy and stress free, with deep affection from Ruth
For some reason, I was floored particularly to think of her writing this all alone. It was unbearable to think of her loneliness as she wrote it. She liked to check important letters with us. She often asked us to read things back before she sent them – letters to the papers or letters to solicitors or letters to the tenants' association. She liked feedback on what she wrote and how she wrote it.
Alongside the letter was a list of all those she wanted to receive it. My sister and I talked about how to begin. You can't just email a farewell letter, we felt. There is something about that that feels too heartless, sending out such a message into the indifferent ether of the internet, to land with someone at some unexpected point in their lives and their day. Particularly these people, so many of them elderly, so many of them alone.
So we started to telephone people and tell them what we were sending them. It took us a long time, many days, because every time we had to say why we were telephoning we had to hold ourselves together very hard, and the effort was too exhausting to make more than one or two phone calls each day.
One of the first people I telephoned was one of my mother's oldest friends, Heather Strange. They had met in the peace movement in London in the 1960s, but now Heather lived alone on the wild Welsh coast. I had not seen Heather since I was sixteen. When I was sixteen, my parents were divorcing, and I had stayed with her and her partner, Ian, in Shropshire for a little while. Like most teenagers, I was in a desperate muddle about everything, and under my outward coating of 1980s London style, under my cropped hair, black clothes and blue nail varnish, under my persona that was experimenting with smoking and sex and music, I was quiet and earnest and all at sea. I was delighted to spend those days helping Heather on her smallholding. Goats, chickens, vegetable garden, I romanticised it all. I walked up to the top of the hills that surrounded her house and looked out over the countryside and yearned for my future, and came back down to her garden and felt unready for it. That was over thirty years ago. Everything had changed.
But voices do not change, and Heather's voice was still the same slow and thoughtful voice that I remembered from that warm summer when I thought she held some secret to happiness there in her self-built house on her little smallholding. I told her what I had to tell her, and waited for her shock and tears.
Instead, I heard her calmness. Heather was not surprised. She was sad, but she was not shocked. Apparently my mother had talked to her about her determination to take this path when she began to feel the first signs of dementia. Heather had not done what I had done – averted my eyes and ignored what I heard – when she had told her. Ruth had been planning this for a long time, she reminded me, and she asked me why I thought that she had decided to go now, at a time that might seem premature, but must have seemed right for her.
Her knowledge and acceptance startled me. And it made me think again about what I had done and what I had been to my mother.
While her friends had accepted her decision, I had turned my gaze away. I had thought I was holding my mother in the land of the living, by talking about the children and the menu on that last lunch, by refusing to listen when she told me where her keys were. But I had been shutting my eyes to the reality, to her reality.
I had been in denial, as one says, as though denial is a place rather than an action.
Maybe denial was a place, a place where I had stopped, unable to move forwards.
In that place called denial, I had assumed that at the end of the day my mother would do the conventional thing. That she would go on living, until forced out of life by a failing body.
But she was not conventional in that way. She was unpredictable. She acted by her own rules, not those of others. She decided on her own way.
I had misjudged her so terribly.
During the dark days and months that followed I felt that I was flailing around, trying to understand myself, trying to understand her. I had failed her, I thought again and again. Grief is so much heavier than one expects. That's what everyone tells you. God, yes, it's true, the exhaustion, the weight of it. But in my grief, there was also guilt, and the dragging weight of that guilt pulled me down and down. I had chosen to live in denial, and in so doing I had failed my mother.
Discover the book: