Read and Extract from Tegan and Sara's Memoir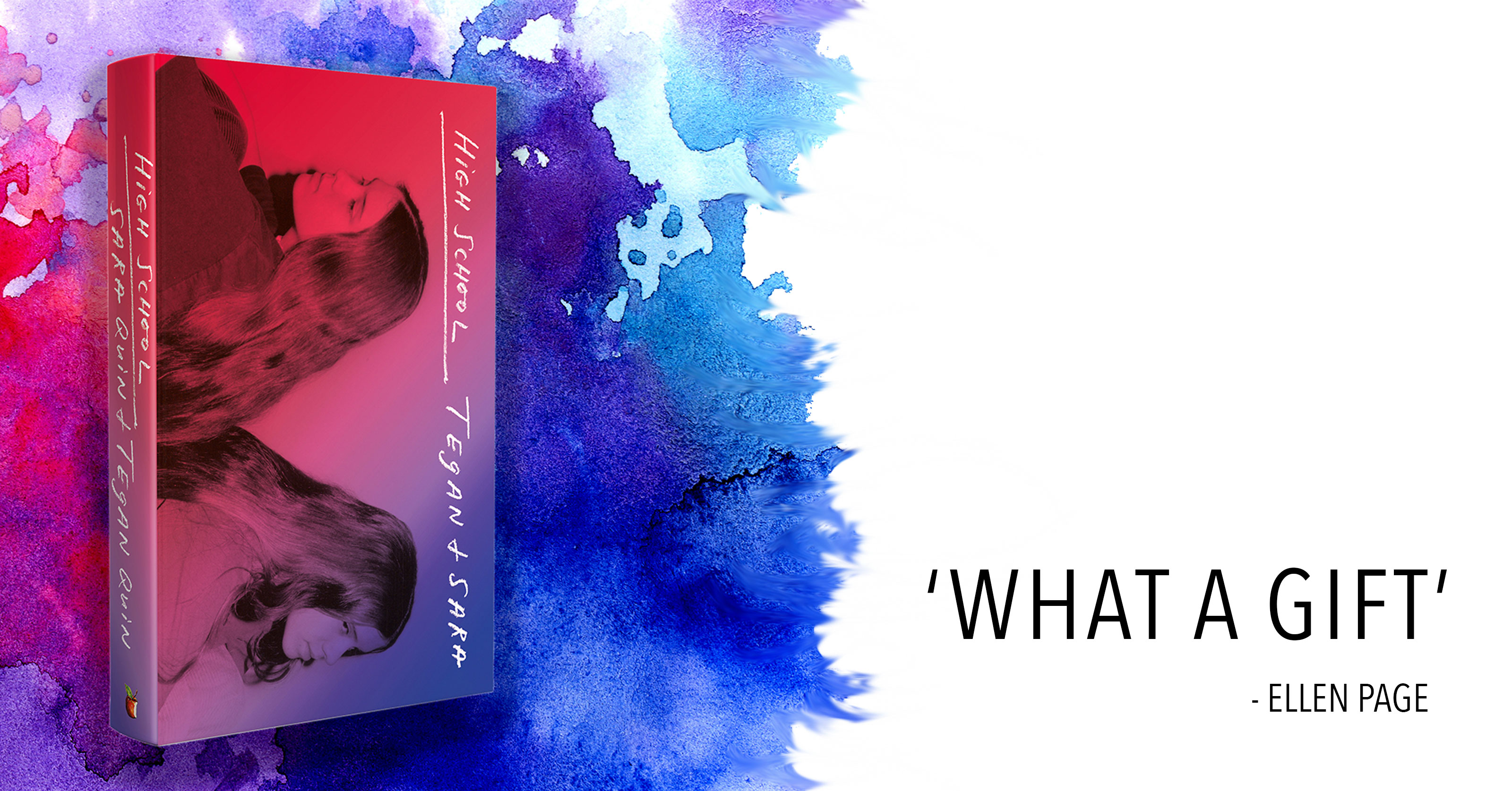 High School is Tegan and Sara's first memoir, chronicling their teenage years during the height of grunge and rave culture in the 1990s in Calgary, Alberta, Canada. The memoir is a bravely honest account of twin sisters growing up down the hall from one another, struggling to figure out their identities, their sexuality, and their futures. While writing High School, Tegan and Sara discovered two cassette tapes with dozens of the first songs they ever wrote between the ages of 15 and 17 – tapes that had been unheard for twenty years. Their new album, Hey, I'm Just Like You, is made up entirely of new studio recordings of those early songs, recasting Tegan and Sara's remarkable innate songwriting talents as teenagers, and allowing these previously unreleased songs to benefit from the studio expertise they have gained in the past two decades as professional musicians.
SARA Prologue
I have no visual memory of Tegan before we were four years old. There is proof of her existence: scores of photographs of us posed together on couches, sitting on laps, or standing side by side in our cribs. But the snapshots in my mind contain no trace of her. What I can summon is the feeling of her. As if she existed everywhere, and in everything.
In preschool, a lump was found in her left arm that required surgery. We were separated for the first time since birth. On the first day of her hospital stay, I was left in the care of another woman with a set of twins, the same age as Tegan and me. While her children played together, I sat on the floor of their bedroom, stunned by my sister's absence. On the second day, I lay on our grandmother's living room couch with a fever. Opposite me, I registered the empty space.
Without Tegan I had become me. And it was awful.
TEGAN P

rologue

When we were three years old, Sara suffered from a bout of night terrors. I have a vivid memory during that time of her flat out on her back, in the hallway outside her bedroom, her pajamaed limbs flailing, and my parents on either side of her trying to calm her down. In the memory, I am reassured by my mom and dad that Sara is okay, that everything is fine. But I am left uneasy, unsettled.

When I shared this memory years later, my mom and dad were quick to correct me: it was me who suffered from the terrible dreams all those years ago, and Sara who watched from her bedroom at the end of the hall. I have it backward, they insist.

I wonder frequently how many of the memories I carry of Sara are actually my own. How much of my early life have I confused with hers? Our tangled nature makes even me feel interchangeable with Sara—indistinguishable, bound, and suffocated. There is often a violent urge in me to tear those early memories of us apart, even if just in my own head. But I admit, there is also great comfort that comes from traveling through life with a witness, an identical twin to corroborate your version of things.
by
Sara Quin
by
Tegan Quin
From iconic musicians Tegan and Sara comes a nostalgic memoir about high school, detailing their first loves and first songs in a compelling look back at their origin story.

'Honest and hilarious, dishy and sweet, smart and self-aware and utterly charming.' Carmen Maria Machado, author of Her Body and Other Parties

'What a gift' Ellen Page

High School is the revelatory and unique coming-of-age story of Sara and Tegan Quin, identical twins from Calgary, Alberta, growing up in the height of grunge and rave culture in the 90s, well before they became the celebrated musicians and global LGBTQ icons we know today. While grappling with their identity and sexuality, often alone, they also faced academic meltdown, their parents' divorce, and the looming pressure of what might come after high school.

Written in alternating chapters from both Tegan's point of view and Sara's, the book is a raw account of the drugs, alcohol, love, music and friendship they explored in their formative years. A transcendent story of first loves and first songs, it captures the tangle of discordant and parallel memories of two sisters who grew up in distinct ways even as they lived just down the hall from one another. This is the origin story of Tegan and Sara.