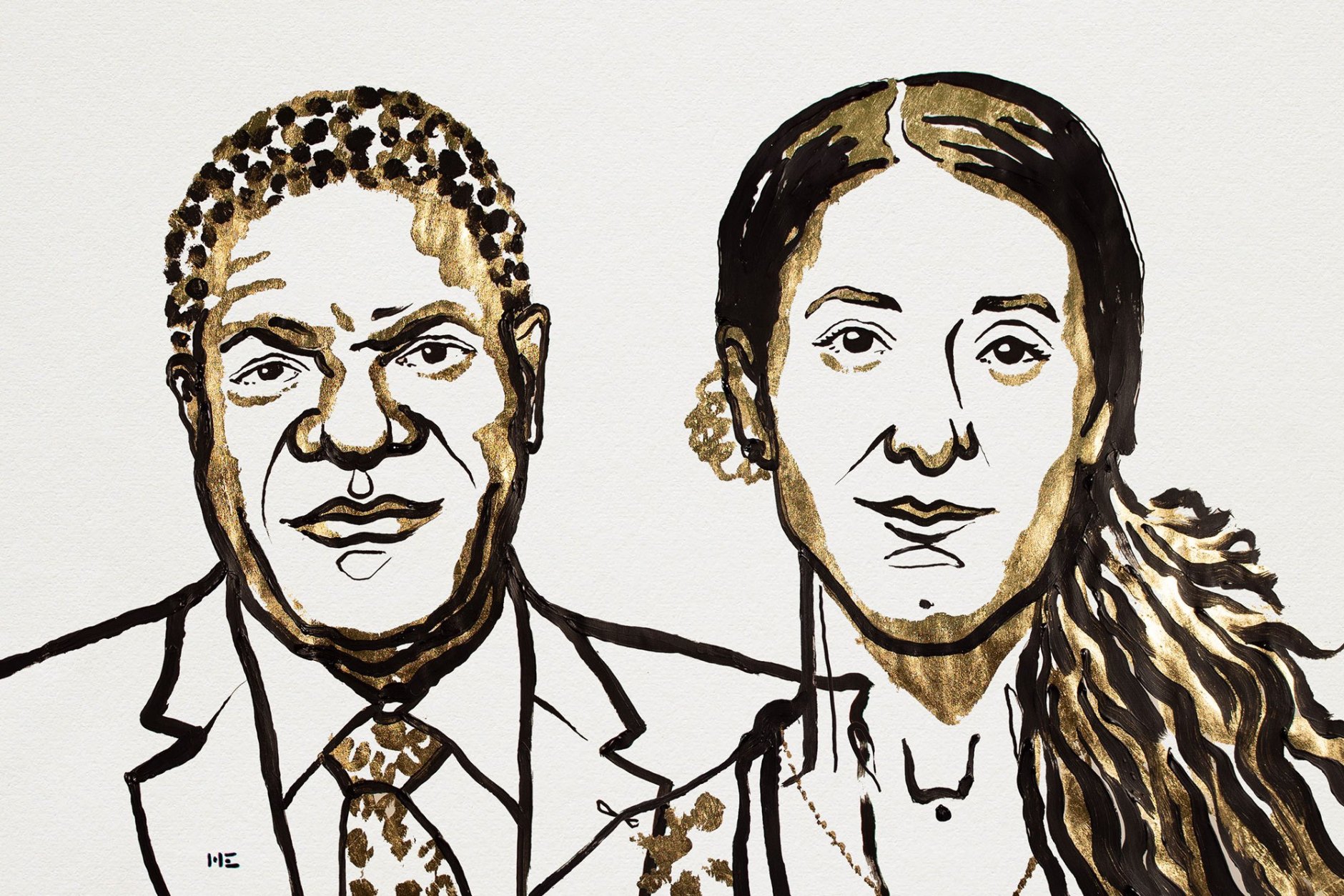 Denis Mukwege and Nadia Murad, 2018 Nobel Peace Prize Laureates
Illustration by Niklas Elmehed | © Nobel Media AB 2018
Nadia Murad and Denis Mukwege receive the Nobel Peace Prize for 2018
The Norwegian Nobel Committee has awarded the Nobel Peace Prize for 2018 to Denis Mukwege and Nadia Murad for their efforts to end the use of sexual violence as a weapon of war and armed conflict. The committee said: 'They have both put their own personal security at risk by courageously combatting war crimes and securing justice for victims.'
Nadia Murad is the author of The Last Girl: My Story of Captivity and My Fight against the Islamic State published by Virago with a forward by Amal Clooney who says: 'Those who thought that by their cruelty they could silence her were wrong. Nadia Murad's spirit is not broken and her voice will not be muted.'  
Nadia Murad has also been awarded the Council of Europe's Václav Havel human rights prize and was joint winner of the EU's prestigious Sakharov human rights prize in 2016. She is the witness who tells of the abuses perpetrated against herself and others and she has shown uncommon courage in recounting her own sufferings and speaking up on behalf of other victims. She was captured alongside her sisters, and lost six brothers and her mother as Isis jihadis killed the village's men and any women considered too old to be sexually exploited.
Anyone who has read this eye-opening, hugely important book will know how much she deserves the Nobel Peace Prize. She is an incredibly courageous woman.
The physician Denis Mukwege has spent large parts of his adult life helping the victims of sexual violence in the Democratic Republic of Congo. Dr Mukwege and his staff have treated thousands of patients who have fallen victim to such assaults.
Virago congratulates them both.
Watch the announcement here and click here for more on the 2018 Nobel Peace Prize.