Read an Extract | The Incendiaries by R. O. Kwon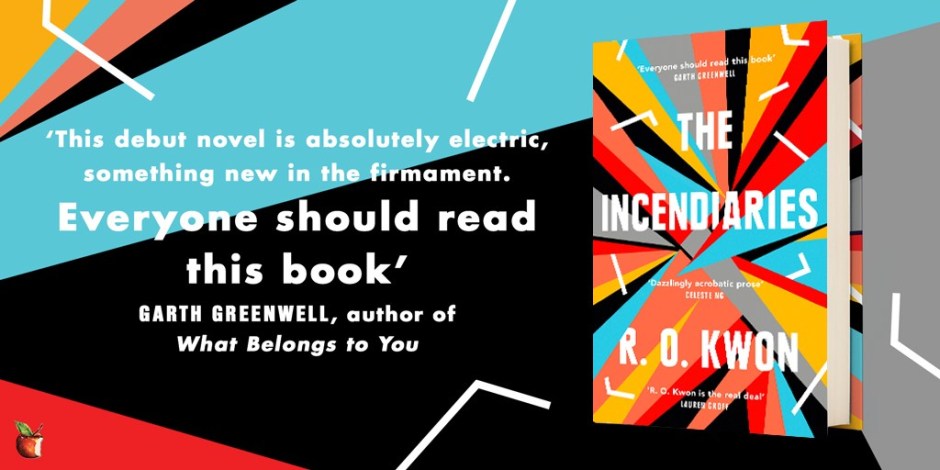 The Incendiaries by R. O. Kwon
Out in Hardback September 2018. Ebook now available. 
Phoebe Lin and Will Kendall meet their first month at prestigious Edwards University. Phoebe is a glamorous girl who doesn't tell anyone she blames herself for her mother's recent death. Will is a misfit scholarship boy who transfers to Edwards from Bible college, waiting tables to get by. What he knows for sure is that he loves Phoebe.
Grieving and guilt-ridden, Phoebe is increasingly drawn into a religious group–a secretive extremist cult–founded by a charismatic former student, John Leal. He has an enigmatic past that involves North Korea and Phoebe's Korean American family. Meanwhile, Will struggles to confront the fundamentalism he's tried to escape, and the obsession consuming the one he loves. When the group bombs several buildings in the name of faith, killing five people, Phoebe disappears. Will devotes himself to finding her, tilting into obsession himself, seeking answers to what happened to Phoebe and if she could have been responsible for this violent act.
The Incendiaries is a fractured love story and a brilliant examination of the minds of extremist terrorists, and of what can happen to people who lose what they love most.
---
---
A powerful, darkly glittering novel about violence, love, faith, and loss, as a young Korean American woman at an elite American university is drawn into acts of domestic terrorism by a cult tied to North Korea.
---
---
Read an extract:
1.
Will
They'd have gathered on a rooftop in Noxhurst to watch the explosion. Platt Hall, I think, eleven floors up: I know his ego, and he'd have picked the tallest point he could. So often, I've imagined how they felt, waiting. With six minutes left, the slant light of dusk reddened the high old spires of the college, the level gables of its surrounding town. They poured festive wine into big-bellied glasses. Hands shaking, they laughed. She would sit apart from this reveling group, cross-legged on the roof's west ledge. Three minutes to go, two, one.
The Phipps building fell. Smoke plumed, the breath of God. Silence followed, then the group's shouts of triumph. Wine glasses clashed together, flashing martial light. He sang the first bars of a Jejah psalm. Others soon joined in. Carillon bells chimed, distant birds blowing white, strewn, like dandelion tufts, an outsize wish. It must have been then that John Leal came to her side. In his bare feet, he closed his arm around her shoulders. She flinched, looking up at him. I can imagine how he'd have tightened his hold, telling her she'd done well, though before long, it would be time to act again, to do a little more—
But this is where I start having trouble, Phoebe. Buildings fell. People died. You once told me I hadn't even tried to understand.  So, here I am, trying.
2.
John Leal
Once John Leal left Noxhurst, halfway through his last term of college, he drifted until he ended up in Yanji, China. In this city, adjacent to North Korea, he began working with an activist group that smuggled Korean refugees toward asylum in Seoul. He'd found his life's work, he thought.
Instead, he was kidnapped by North Korean agents, spirited across the border, and thrown into a prison camp outside of Pyongyang. In the stories he later told the group, he said the gulag brutalities were bad enough, but at least they'd been expected. What astonished him was the allegiance his fellow inmates showed toward the lunatic despot whose policies had installed them in their cells. They'd been jailed because, oh, they'd splashed a drop of tea on his newsprint portrait. A neighbor claimed to have overheard them whistling a South Korean pop song. Punished for absurdities, they still maintained that the beloved sovereign, a divine being, couldn't be to blame. At first, he assumed this was lip service, the prisoners afraid to
say otherwise. But then, he thought of the refugees he'd met in Yanji, how they talked of loving the god they'd fled. They attributed the regime's troubles to anyone but the sole person in charge.
A month into John Leal's time in the gulag, prison guards held an optional foot race, the prize a framed icon of the despot. In the confusion, those who fell were trampled. One child died of a broken spine. Through howls of pain, he shouted hosannahs for his lord. They weren't lying, the poor fools. They believed in the man as one might believe in Jesus Christ. Some people needed leading. In or out of the gulag, they craved faith. But
think if the tyrant had been as upright as his disciples trusted him to be. The heights he'd have achieved, if he loved them—if, John Leal thought, until his idea began.
---
---