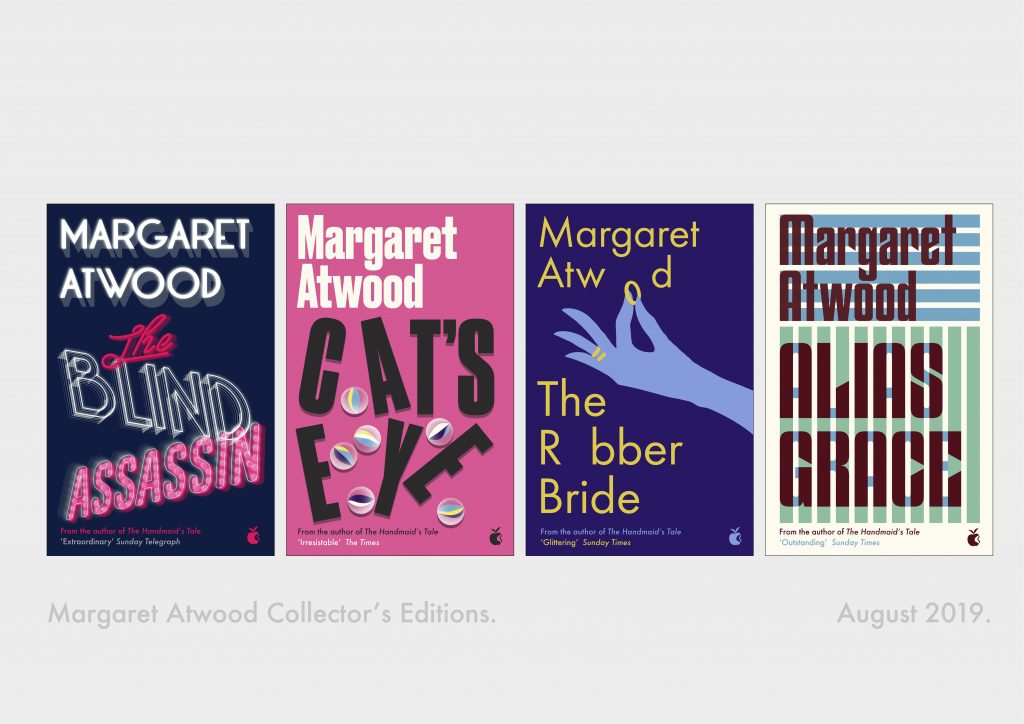 To mark the publication of Margaret Atwood's new novel, The Testaments and to celebrate forty years of publishing with Virago – her novel Surfacing  was one of the first Virago Modern Classics in 1979 – Virago are publishing on August 22 2019, four of her novels as Collector's Editions.  In paperback at £9.99 in stunning new designs with flaps and foil, these four books: Cat's Eye, The Robber Bride, Alias Grace and The Blind Assassin are some of her greatest novels.  
Says Lennie Goodings, `Margaret Atwood is a Virago Classic herself'
The covers for this anniversary collection were design by David Pearson, you can find him on Twitter at: https://twitter.com/typeasimage
Cat's Eye (1988)
Elaine Risley, a painter, returns to Toronto to find herself overwhelmed by her past. Memories of childhood – unbearable betrayals and cruelties – surface relentlessly, forcing her to confront the spectre of Cordelia, once her best friend and tormentor, who has haunted her for forty years.
'Not since Graham Greene has a novelist captured so forcefully the relationship between school bully and victim . . . Atwood's games are played, exquisitely, by little girls' Listener
The Robber Bride (1993)
Zenia is beautiful, smart and greedy, by turns manipulative and vulnerable, needy and ruthless; a man's dream and a woman"s nightmare. She is also dead. Just to make sure Tony, Roz andd Charis are there for the funeral. But five years on, as the three women share an indulgent, sisterly lunch, the unthinkable happens; 'with waves of ill will flowing out of her like cosmic radiation', Zenia is back…
Alias Grace (1996)
'Brilliant… Atwood's prose is searching. So intimate it seems to be written on the skin' Hilary Mantel
'Sometimes I whisper it over to myself: Murderess. Murderess. It rustles, like a taffeta skirt along the floor.'
Grace Marks. Female fiend? Femme fatale? Or weak and unwilling victim? Around the true story of one of the most enigmatic and notorious women of the 1840s, Margaret Atwood has created an extraordinarily potent tale of sexuality, cruelty and mystery.
The Blind Assassin (2000)
Winner of the Booker Prize 2000
Sexually explicit for its time, The Blind Assassin describes a risky affair in the turbulent thirties between a wealthy young woman and a man on the run. During their secret meetings in rented rooms, the lovers concoct a pulp fantasy set on Planet Zycron. As the invented story twists through love and sacrifice and betrayal, so does the real one; while events in both move closer to war and catastrophe. By turns lyrical, outrageous, formidable, compelling and funny, this is a novel filled with deep humour and dark drama.