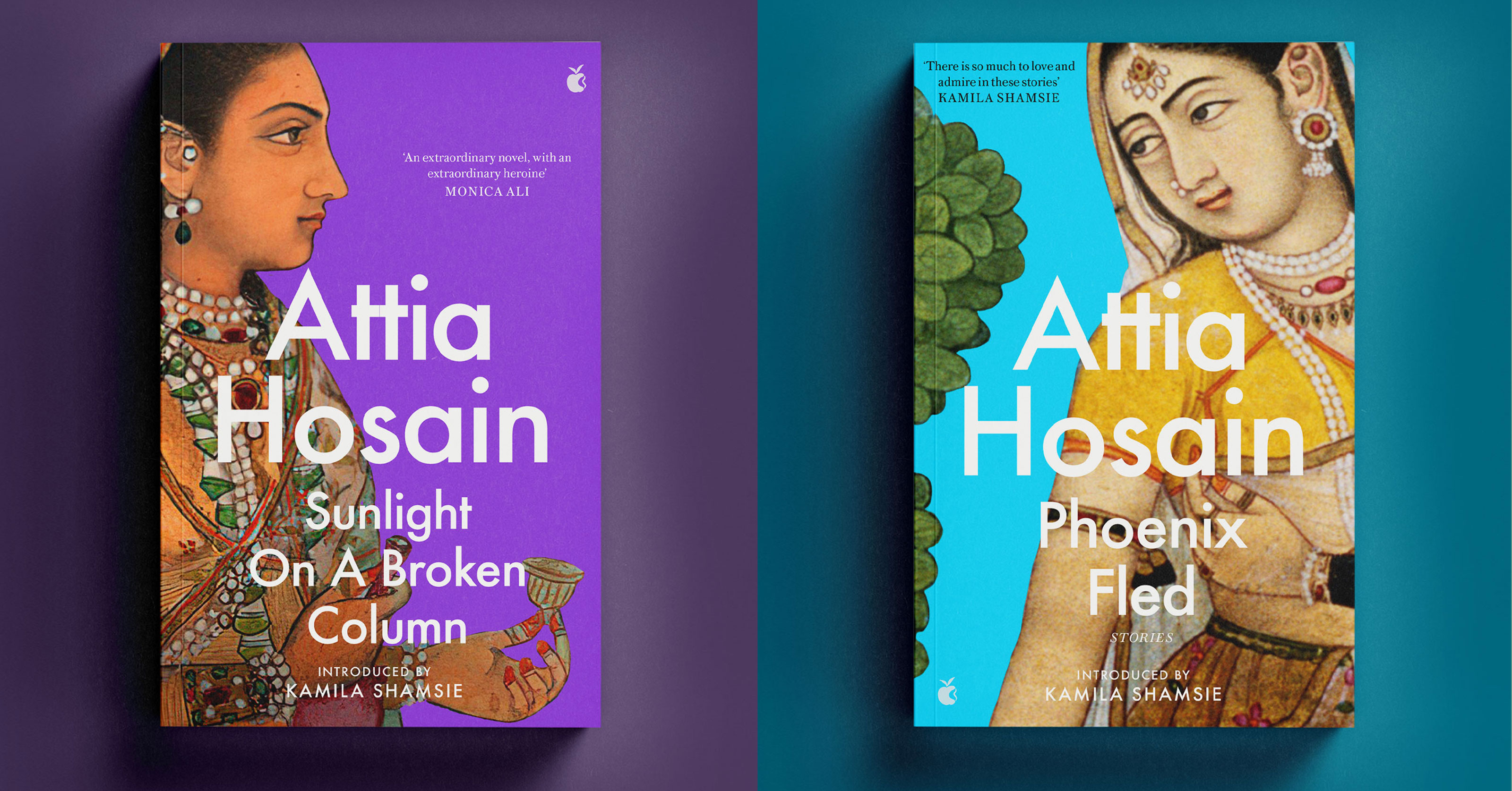 This August we will publish Attia Hosain's compelling classic novel, Sunlight on a Broken Column, and her powerful collection of short stories, Phoenix Fled. 
Attia Hosain (1913–1998) was born in Lucknow and educated at La Martiniere and Isabella Thoburn College, blending an English liberal education with that of a traditional Muslim household where she was taught Persian, Urdu and Arabic. She was the first woman to graduate from among the feudal 'Taluqdari' families into which she was born. Influenced in the 1930s by the nationalist movement and the Progressive Writers' Group in India, she became a journalist, broadcaster and writer. In 1947, the year of Independence, she moved to England and presented her own women's programme on the BBC Eastern Service for many years, and appeared on television and the West End stage.
Despite only writing only two books, Hosain's work has been hugely influential – and we cannot wait for this important writer to be rediscovered by today's readers.
SUNLIGHT ON A BROKEN COLUMN
'An extraordinary novel, with an extraordinary heroine . . . There is such richness here, waiting to be rediscovered. And readers will fall in love with Laila' – MONICA ALI
First published sixty years ago, Sunlight on a Broken Column is an unforgettable coming-of-age story set against the tumultuous background of Partition.
'My life changed. It had been restricted by invisible barriers almost as effectively as the physically restricted lives of my aunts in the zenana. A window had opened here, a door there, a curtain had been drawn aside; but outside lay a world narrowed by one's field of vision'
'The deftness with which Attia Hosain handles the interplay of manners, class, culture and different forms of female power is gorgeously done' – KAMILA SHAMSIE
Laila, orphaned daughter of a distinguished Muslim family, is brought up in her grandfather's traditional household by her aunts, who keep purdah. At fifteen she moves to the home of her 'liberal' but autocratic uncle in Lucknow. As the struggle for Independence sharpens, Laila is surrounded by relatives and university friends caught up in politics, but she is unable to commit herself to any cause: her own fight for independence is a struggle against tradition.
With its stunning evocation of India, its political insight and unsentimental understanding of the human heart, Sunlight on a Broken Column is a classic of Muslim life.
Features an introduction by Kamila Shamsie. Click here to order your copy.
PHOENIX FLED
'There is so much to love and admire in these stories . . . their understanding of heartbreak, their attention to affection and love across many divides . . . Long after I finished reading, I found myself still recalling the tiny moments, so beautifully rendered, that made them come to life' KAMILA SHAMSIE

First published in 1953, Phoenix Fled, is a powerful collection of short stories depicting characters caught between worlds and cultures.
'Listen to me, child. You will be a woman soon and must behave well and with modesty. The Kazi will ask you three times whether you will marry Kalloo Mian. Now don't you be shameless, like these modern girls, and shout gleefully "Yes". Be modest and cry softly and say "Hoon".'
A marriage is arranged between a young servant girl and a middle-aged cook with an opium habit; an idealistic political worker faces disillusionment; a man returns from studying in England to a wife he scarcely knows; a bride has her first encounter with her husband's 'emancipated' friends.
Telling of the lives of servants and children, of conflict between revered traditions and new ways, and exploring the human repercussions of the Muslim/Hindu divide, these stories present a moving and vivid picture of life in India in the mid-twentieth century. To each episode Attia Hosain brings a superb imaginative understanding and a sense of the poignancy of the smallest of human dramas.
'Hosain's books stir with life and the play of sunlight and rain . . . her greatest strength lies in her ability to draw a rich, full portrait of her society – ignoring none of its many faults and cruelties' ANITA DESAI
Click here to order your copy.