Fast Fashion Needs to Slow Down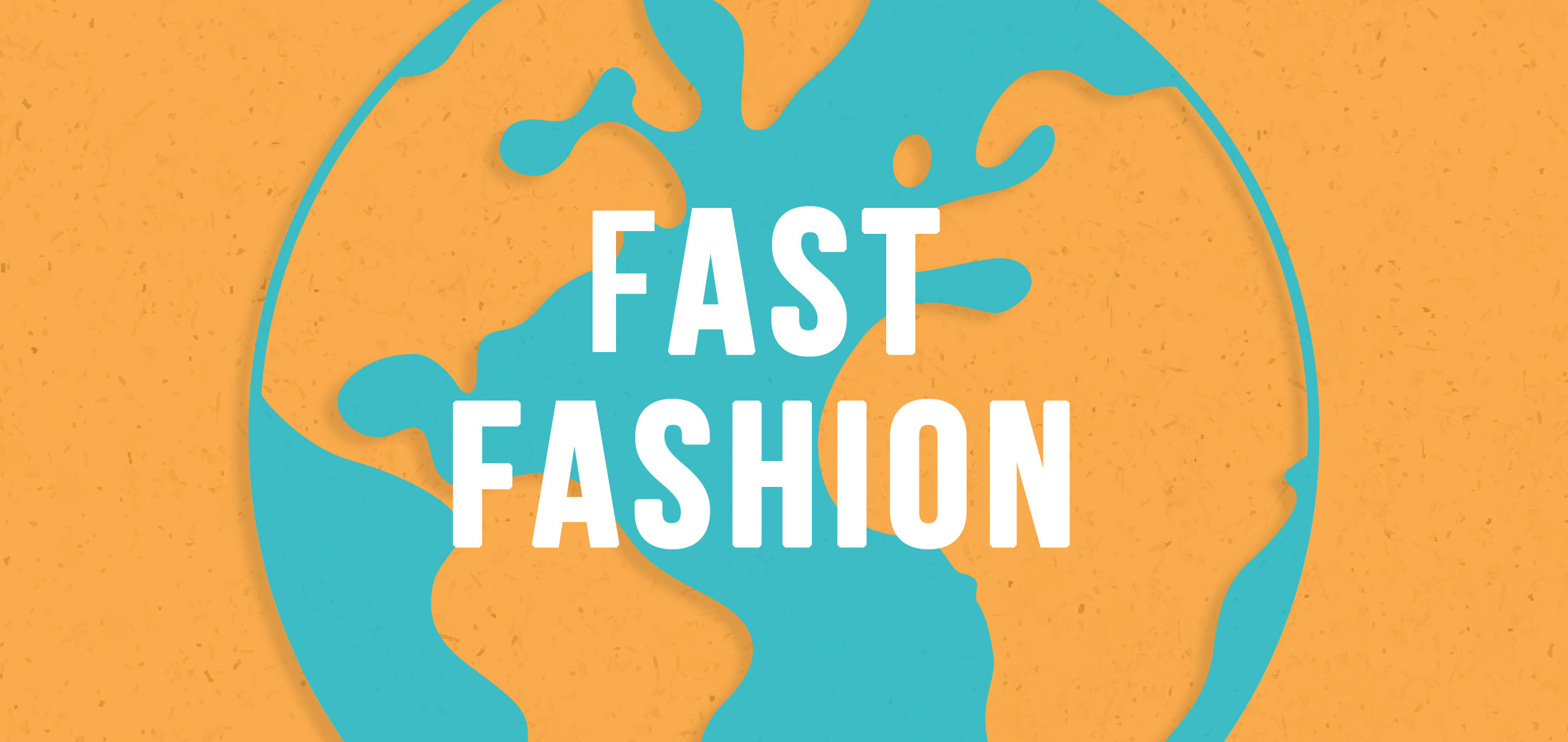 What is fast fashion and how will slowing it down help the planet?
The following is an extract from Your Planet Needs You! by Bernadette Vallely, Amy Charuy-Hughes and Bethan Stewart James; three women from different generations who came together to create an informative and practical guide to the issues facing our planet and the steps YOU can take to make our future greener, fairer and more sustainable.
FASHION AND CLOTHING
Fast fashion needs to slow down.
Some people use clothes as a way to express themselves, their individuality or their identity; others see them simply as an everyday necessity.
Fashion shapes history and history shapes fashion. Fashion trends have been heavily influenced by social movements, religion, politics and wars. Look at Coco Chanel's invention of fashionable trousers for ladies in the 1920s, after the First World War had shown the advantages of trousers over skirts for comfort and easy movement; or Mary Quant's famous mini-skirt, reflecting the rise of youth culture in the 1960s, and 1980s female power- dressing when women were making demands in the boardroom.
In 2018 the UK fashion, clothing and accessories market was valued at £32 billion, reported by The British Fashion Council. The global industry is predicted to increase in value to an estimated $1.5 trillion in 2020, according to Statista.
We have so much to wear already. According to Eco-Age, households in Britain have an estimated 30 billion pounds' worth of new, unworn clothing in their wardrobes and drawers. And when we do wear it, fast fashion turnaround means that we have about one year of wear from an item before we landfill it. This runaway trend, of fast disposable clothing, chemical-intensive manufacture and the use of plastics in our fabrics, is causing multiple and serious long- term environmental damage.
The fashion and clothing industry is one of the most polluting industries in the world, second only to the oil industry. The report 'Putting the Brakes on Fast Fashion', conducted by the United Nations Environment Programme (UNEP), found that the fashion and clothing industry accounts for 10 per cent of the global carbon emissions as a result of energy used during production, manufacturing and transportation.
For each kilo of fabric produced, 23kg of greenhouse gases are generated, according to The Economist's report 'The environmental costs of creating clothes', which says that half of our fast- fashion clothing lasts for only one year, making it a disposable product, when just fifteen years ago clothing was a more considered purchase and would have been cleaned, fixed and repaired more often.
Synthetic fibres such as polyester and acrylic are made from plastic. The production of these fibres is more energy intensive than that of natural fibres and now 64 per cent of our clothing contains plastic, as stated by Friends of the Earth. They shed microplastics, also called microfibres – millions of tiny particles of plastic waste – during washing and wear. Countries such as China, Bangladesh and India are manufacturing the majority of clothes worn in the UK today. These countries are powered by coal, which is the dirtiest type of energy in terms of carbon emissions and in its directly polluting their atmosphere, causing serious long-term health problems and even excess deaths for local people. Your desire for very cheap clothing is literally killing people across the planet.
Clothing contains many toxic chemicals; they are used in growing, treating, cleaning, weaving and finishing. Some 23  per cent of all chemicals produced worldwide are used in the textile industry as some 1,900 chemicals are utilised in production according to the report of the EU's research service, EPRS: 'Environmental impact of the textile and clothes industry'.
The fashion industry is also having a negative impact on the quality of the earth's soil resulting in desertification and drought – from the overgrazing of land used to raise cattle for leather, or goats and sheep for cashmere and wool, or from cotton plantations – which threatens agriculture and ultimately contributes to global warming. According to the United Nations, by the year 2030 the fashion and textile industry is predicted to use 35 per cent more land, amounting to over 115 million hectares.
What's more, each year, approximately seventy million trees are cut down and replaced by mass plantations of trees such as bamboo as well as spruce, pine and beech trees, which are used to make wood- based fabrics such as rayon, modal (from beech) and viscose. This deforestation is threatening our ecosystems, our animals and the rights of indigenous communities.
In many of the countries where garments are manufactured, untreated, toxic wastewater from textile factories is dumped directly into rivers. According to Sustain Your Style's report 'Fashion's Environmental Impact', 20 per cent of industrial water pollution comes from textile treatment and dyeing, with 200,000 tonnes of fabric dye polluting rivers and seas every year; 90 per cent of this figure is affecting the waters of developing countries.
A UK Parliamentary Report, 'Fixing fashion: clothing consumption and sustainability', lists the environmental price tag of fast fashion. Creating and growing fibres for clothing is a major use of water in industry worldwide. According to Sustain Your Style, it takes 20,000 litres of water to grow 1kg of cotton, with the industry using a total of 1.5 trillion litres of water every year.
The environmental impact of the clothing industry doesn't stop at the factory gates or at the shop door. According to the charity Sustain, every time we wash a garment made from manufactured fibres, around 1,900 individual microfibres are released into the water, making their way into our oceans. Scientists have discovered that small aquatic organisms ingest those microfibres. These organisms are then eaten by small fish, which are later eaten by bigger fish, and so on, finally introducing plastic to humans in the food chain.
The end of life for a garment is not the end of its pollution. Unless clothing is recycled or donated, it goes directly to landfill or is incinerated. Synthetic plastic-based fibres, such as polyester, are non- biodegradable, taking from 20 to 200 years to break down depending on the conditions.
The fashion industry employs approximately 300 million people worldwide, and contributes to the market value within many developing countries, such as in Bangladesh, India, Vietnam, China, Sri Lanka and the Philippines, who rely heavily on fibre production and manufacturing as a source of employment and income.
The industry is often revealed to be paying offshore factory workers (often underage children) less than the minimum wage. They manufacture their garments at factories where human rights, safety and environmental care are at the very bottom of the priority list.
You may have heard of Fashion Week but have you heard of Fashion Revolution Week? Following the 2013 Rana Plaza factory collapse in Bangladesh, when over 1,100 people lost their lives and a  further  2,500 were injured, the 'Who Made My Clothes' movement was born. It was set up by Fashion Revolution, a charity with a platform open to the whole fashion industry from brands to manufacturers to individuals. Fashion Revolution fights for environmental protection and human rights worldwide. Orsola de Castro, designer and co-founder of Fashion Revolution, tells us: 'It isn't enough just looking for quality in the products we buy, we must ensure that there is quality in the lives of the people who make them.' Each year during the week of 24 April, Fashion Revolution Week remembers the 2013 disaster.
What can you do?
Own what you wear, how you choose to look, and your personal style. Make it yours.
Reusing clothes, refashioning them and claiming them as yours is a statement of uniqueness and tough ecological standards. The re-fashioning of clothes is the next big fashion trend. Re-fashioning will make for unique catwalks and dramatic creativity.
Find a pile of clothes you know you will never wear again; they might be damaged, too small, or old but loved none the less. Lay them out on the floor and see which would fit well together. Look for similar thickness of fabric or similar colour schemes and then make yourself a new jumper, or coat, or skirt from a mash-up of fabrics and clothing, using the best bits of what you have. You can use a sewing machine or sew by hand. Get your scissors out and have some fun.
If you really want to buy new, look hard at the new garment you want. Do you know what fabrics it is made from and where it has been made? The 'Made in' label can tell you a lot about an item and the story behind it as well as the fabric it is made from. Is it synthetic, natural or organic?
Do you think the price of the garment is a fair price to pay? Think of the life of that item from the planning, to the manufacturing, to it finally reaching the shop floor. Do you know that everyone involved in the process has been fairly paid?
What about the company behind the brand? Do they have a good work ethic? Do they pay workers a fair living wage? Do they have their sustainability report clearly on their website?
Look for natural, fair-trade, organic fibres or recycled fabrics. These will be less polluting and generally have low water consumption in production.
Don't become a hoarder of clothes – find friends who are the same size as you and bring all your unwanted items together for a swap or sale. Recycling clothing and accessories among your friends can make a great night out.
When you have finished with your clothing and you cannot upcycle or swap them any more, then recycle in charity shops and put the rest in your local council's clothing recycling bins. Shoes can also be recycled in this way. Clothing should not be going into the general waste stream.
Recycle your unwanted textiles, such as unusable items and rag textiles. These can be given to charity shops and some high-street retailers which are then sold on to recycling companies who will recycle textiles into furniture stuffing for sofas and car seats, for example. Be sure to label up the bag of unusable textiles to make it clear and safe for the next person who handles it.
Make money from your unwanted clothes. There are many online selling platforms to do this, along with car-boot, second-hand and clothes-swapping events.
Don't support fast fashion brands. Call them out on their sustainability practices. If you follow any unethical brands on social media, newsletters or home mailings, unsubscribe.