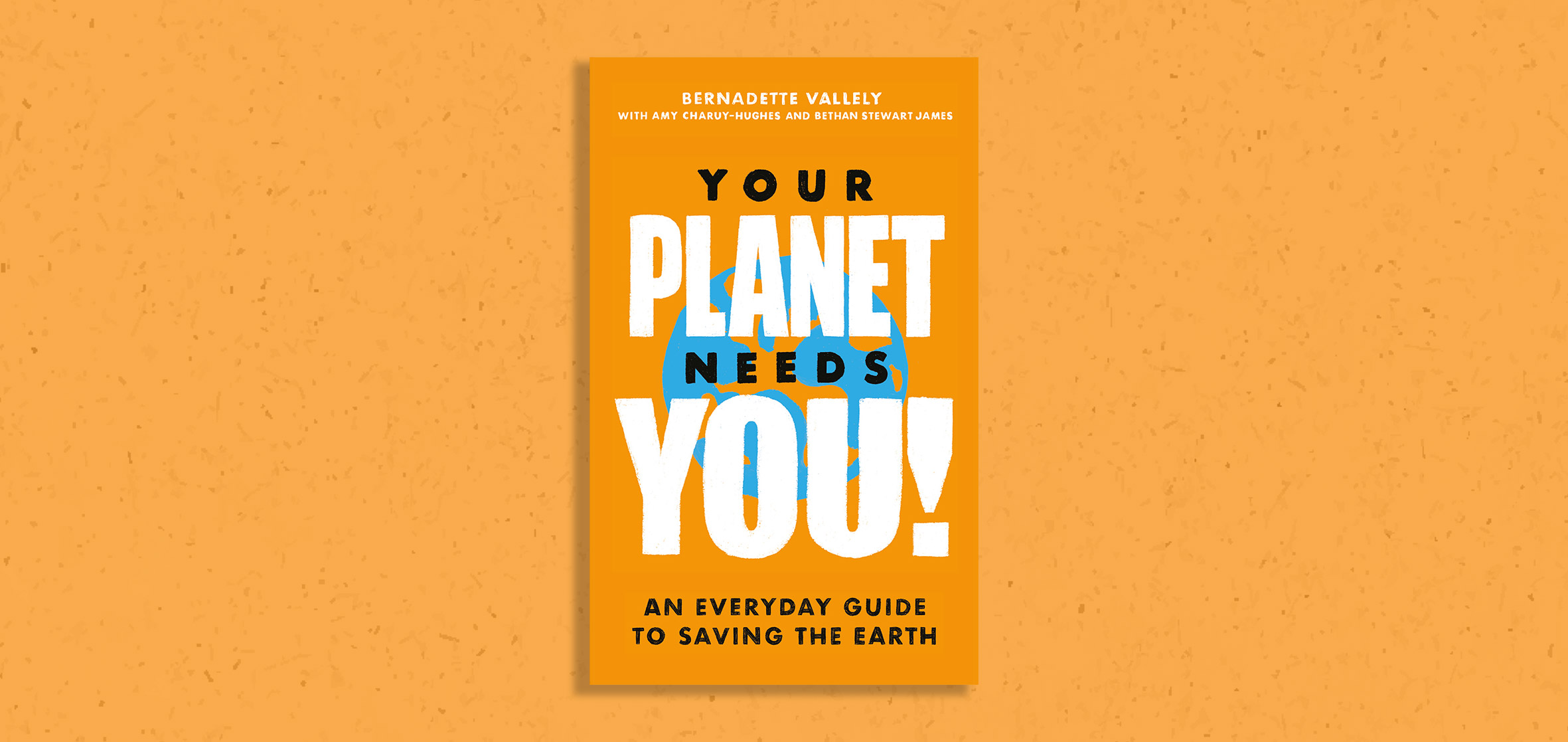 Your Planet Needs You! is an informative and practical guide to the issues facing our planet and the steps we can take to make our future greener, fairer and more sustainable. The book – an update to The Young Person's Guide to Saving the Planet, written thirty years ago by the feminist environmental activist Bernadette Vallely and writer Debbie Silver – addresses the urgent issues our planet faces today. Original contributor Bernadette Vallely brought in two new voices, from two different generations, Amy Charuy-Hughes and Bethan Stewart James. Together they created an essential beginner's guide to understanding the environment and the threats to its wellbeing.
Here are their stories:
Bernadette's story
Thirty years have gone by in the blink of an eye! My friends tell me that everything I said during those days has come true, that it is now mainstream thought. People are beginning to understand the environmental issues we face.
My own heart is worried that there are still not enough people with a conscious understanding of the truth, awake to the precarious and dangerous situation we are in right now. When Lennie Goodings invited me to consider updating the book, my first action was to sit down and read through it. I labelled each section into three groups: 'solved and sorted' with a smiley face, 'far worse and dangerous' with a sad face and 'not better but not worse', i.e. about the same, with a dash. It was a simple way to see if anything had got better and to take stock. What had changed, and what had become a bigger problem?
To my surprise my findings mirrored a more scientific study that showed, over the past thirty years, that our environmental problems fit into these three categories in roughly three equal parts.
Let me explain.
A third of our environmental problems have improved. Our nation's largest rivers are teeming with mammals such as beavers and seals. Legislation from thirty years ago that made industries stop polluting the river systems worked. The ecosystem and the food chain is cleaner, and animals and fish of all types have flourished.
Around one third of our problems are worse. Much worse. Species extinction is real and cannot be reversed. The climate emergency, talked about by environmentalists as a future event during the 1990s, is now affecting our lives every day. More people are suffering – even dying – from pollution and flooding, fires and heatwaves, and our climate is proving a dangerous and inhospitable ally. Millions are affected, and it looks set to worsen.
Another third of the environmental problems are at about the same level of threat to the planet. Not solved yet but bobbing along in our consciousness, issues like chemicals in our foods and household cleaners still affect us but their impacts are buffered by information such as better labelling, and more knowledge and understanding of the consequences of their use.
We have a long way to go.
This was enough of an impetus to want to complete an update, to explore where we are right now and capture today's planetary crisis in words again.
The next thing I wanted was a small team of young activists, one or two women or girls who are clearly interested and fighting right now for our planet and for the next generation. Of all the inspiring people fighting for our planet, young women are a shining and exciting example of those who are standing up to protect the earth.
Choosing the then eight-year-old Bethan Stewart James was easy. Bethan had just that summer written a play for her local beach litter clean-up day. Her passion for stopping litter getting into the sea is inspirational. Bethan used her knowledge and enthusiasm to great effect. She had also written an Eco Schools Manifesto, an ecological list of everything her school could do, right away, to start education programmes, energy saving and other actions. Bethan was an argument for listening to our young people and acting with them for the future.
I began searching for other active environmentalists in Britain. So many young people with opinions and ideas. Amy Charuy-Hughes struck me as a perfect fit. She is a young woman at the start of her writing and comedy career but with many years of plastics reduction action already, especially during her time as a fashion consultant and project manager in one of the biggest and most polluting industries today, fast fashion.
We three eco-activists then gathered to discuss our mission. Our perspectives spanned three generations and so many ideas and cultural perspectives. The slim volume from thirty years ago quickly grew in size and importance to us all, and rightly so, as we aimed to match the critical nature of modern problems, such as the climate emergency and species extinction, with our enthusiasm and wider interests.
Bethan started by presenting her beautifully handwritten letter to Greta Thunberg, one of the most famous eco-activists of today. Her letter laid out her exceptional understanding of national and international problems and our personal actions. She then created an up-to-date Schools Manifesto which we hope people will soon pick up and adopt for their own organisations and companies. If a young Welsh schoolgirl can summarise and pinpoint the most pressing issues in how our institutions operate then surely anyone can start with this list and begin their own environmental journey.
Amy started researching the huge amount of new data available from the textiles and fashion industry. From animal cruelty to chemical pollution, we now understand the cycle that the fast fashion industry has perpetuated. Her interest in fashion meant she had access to a wide range of information and was aware of exciting emerging industries. Amy also researched the hundreds of environmental organisations providing charitable and campaigning services for interested people everywhere.
I began by reading – hundreds of reports and articles, many very recent, from the United Nations and the IPCC, the World Health Organisation, the BBC, major research institutes, world universities and governmental institutions. The facts and the science is all there to see, and I used much of this in the work as I tried to stitch together science and nature in a form that would be enjoyable to read. The global institutions of the world have not minced their words, about the climate emergency most especially. The reading worried me – things are serious, and we are not listening, reacting and acting in the way we should.
Greta Thunberg said, 'Our house is on fire!'. She is right, but the analogy doesn't go far enough. The roof is on fire, the windows are broken, the fridge is empty and the basement is flooding too. Meanwhile adverts on television advertise holidays on aeroplanes like everything is fine! It really isn't fine.
It was a challenge to write about an emergency, a serious, life-threatening emergency that is affecting everyone on earth, without it being too sad and too serious, or too light-hearted and flippant. The tone I struck in my writing was to include my view of the potential of love to help us work together to find solutions. Our young people need hope.
The work grew and was stitched together expertly by the team at Virago. There were even more ideas and questions to give a fulsome and excellent answer to each point raised, not just by the Virago team but by our friends and family too. We were also supported by environmental specialists, people who read and commented on the chapters and the science, the statistics and the facts as presented. We are so grateful for their valuable comments, their clarity and expertise that helped us to create such a great final piece of work.
These projects are generally huge, and if we had thought for too long about our commitment we would have set aside two years and twenty people to write it. Instead we created this wonderful work in just six months, and its completion, during the coronavirus pandemic, set the scene for a new futuristic view of the environment, its problems and our place as humans in helping to solve them.
Amy's story
My environmental journey started on my mum's birthday after a balloon was accidentally released into the sky. I became curious about the impact of that loose balloon. This led to a growing curiosity about humans and the destruction of the environment.
I was then working full-time on fashion shoots. I quickly noticed the environmental damage of this industry, especially fast fashion, from the amount of waste created, to the sheer volume of products I was seeing manufactured every day.
My conversations started to change, and it was apparent to me that many of the people around me just didn't get it. Some would laugh at me and think I was being ridiculous. Sometimes I would find myself explaining why using three or four disposable drinking cups throughout a single day is a waste of resources in comparison to a reusable one – a much better option.
Now, it is important to me to surround myself with like-minded people – people who I can have meaningful conversations with about the importance of trying to live a greener life – and I welcome those who are at the start of their journey and would like someone to talk to.
One evening I received a voicemail from Bernadette, a life-long friend's family friend. She didn't mention the book in her message, but I was curious to find out more. I remember our first call. We were chatting away as if we were old friends who had lost contact and were now reconnecting and catching up. I was excited to tell Bernadette all my concerns about the environment, what it means to me to be green and the exciting environmental projects I had been working on. This was the start of many conversations.
A book about the environment! Wow, I thought, I can't wait to tell people how bad single-use plastic is. Ten months later, I can say that the issue is far bigger than just plastic pollution. Writing this book with Bethan and the help and guidance of Bernadette, I have learned so much, things I never thought I would be reading up on, let alone acting on.
The project has been intense, as there are so many important subjects to write about. I am grateful for this experience – it has been a pleasure working with Bernadette and Bethan, and I am excited for our future ventures together, and what the book will bring next. I cannot wait to get out there and start talking about it.
I hope Your Planet Needs You! opens conversations with my family and friends. We all need to realise that we cannot continue to live on the earth in this way, destroying a place we are so fortunate to live. We only have one life and one planet, and we need to live on this earth respectfully for the generations who will follow. We are all fighting our own battles for what we believe in, but the environment is something we all have in common – without it there will be no other battles.
Your planet really does need you.
Bethan's story
Shwmae! Fy enw i yw Bethan Stewart James.
Hello! My name is Bethan Stewart James.
I am so excited to be involved in this project. I care about the environment so much and know we should put our all into saving the planet – saving Earth instead of putting millions of pounds into evacuating to Mars. It's not too late, we just need to try. Thinking and fighting for things like this is how I came to help write this book. Bernadette, Amy and I hope we can change the way you look at things and go green so we can save the planet together.
My inspiration for writing this book comes from Greta Thunberg, a young activist fighting for the planet. Like many other young activists trying to get their voices heard, she is passionate about her cause. My best friends, Eliza and Leila, have taught me a lot and so has the Eco Club at my wonderful school, Ysgol Wdig. I think every school should have an Eco Club as they have taught me and lots of other children about helping the environment.
My friends and I have a passion for drama, so when there was a town activity to write and perform sketches about saving the planet, I was all up for it. I talked about how, in the supermarkets, food in environmentally friendly packaging is a lot more expensive and comes with less food, so we end up buying the normal food with more plastic packaging. This was something I learned at an open day for the ocean lab.
Later a classmate named Sarah said she once ordered a wool carpet but, when she burned it, she realised it was actually made of plastic. Little everyday things like this are what's destroying our beautiful planet. It hurts me to hear about it.
Bernadette called my mum one night and told her what she was going to ask me – if I wanted to collaborate on this book. I was speechless and I didn't know what to say, so I blurted out 'OK!' Mum looked at me and said 'OK? Do you mean to say, "yes please, Bernadette?"'. Then I replied 'Sorry, I mean, um, yes please.'
I am so excited to have helped write this book. This is a chance to share the voices of young people so everyone can see this issue from a young person's point of view, and so more people can learn what they can do to save the planet because your planet needs you! We all need to do everything we can to save the earth.
Diolch am gwrando.
Thank you for listening.
Twenty-one per cent of the royalties from the sales of Your Planet Needs You! will go toward planting native trees.
Find out more:
by
Bernadette Vallely
by
Bethan Stewart James
If there was ever a time to stand up for your planet, for Mother Earth, this is the time.

But what are the most pressing environmental issues affecting us today? And what actions can you, as an individual, take to combat them? If you want to know what you can do, then this is the book for you.

Your Planet Needs You is the essential beginner's guide to understanding the environment and the threats to its wellbeing. From plastic waste to pesticides, food production and chemicals, global warming to species extinction, this book covers the topics that you need to know about.

With practical and positive tips, this book will show how you can be part of the solution and help make a better world, whatever age you are.

Includes sections on air pollution, environmental law, fast fashion and ethical living, as well as resources such as recommended reading and lists of groups and organisations that you can get involved with.