English Heritage commemorates Virago author Angela Carter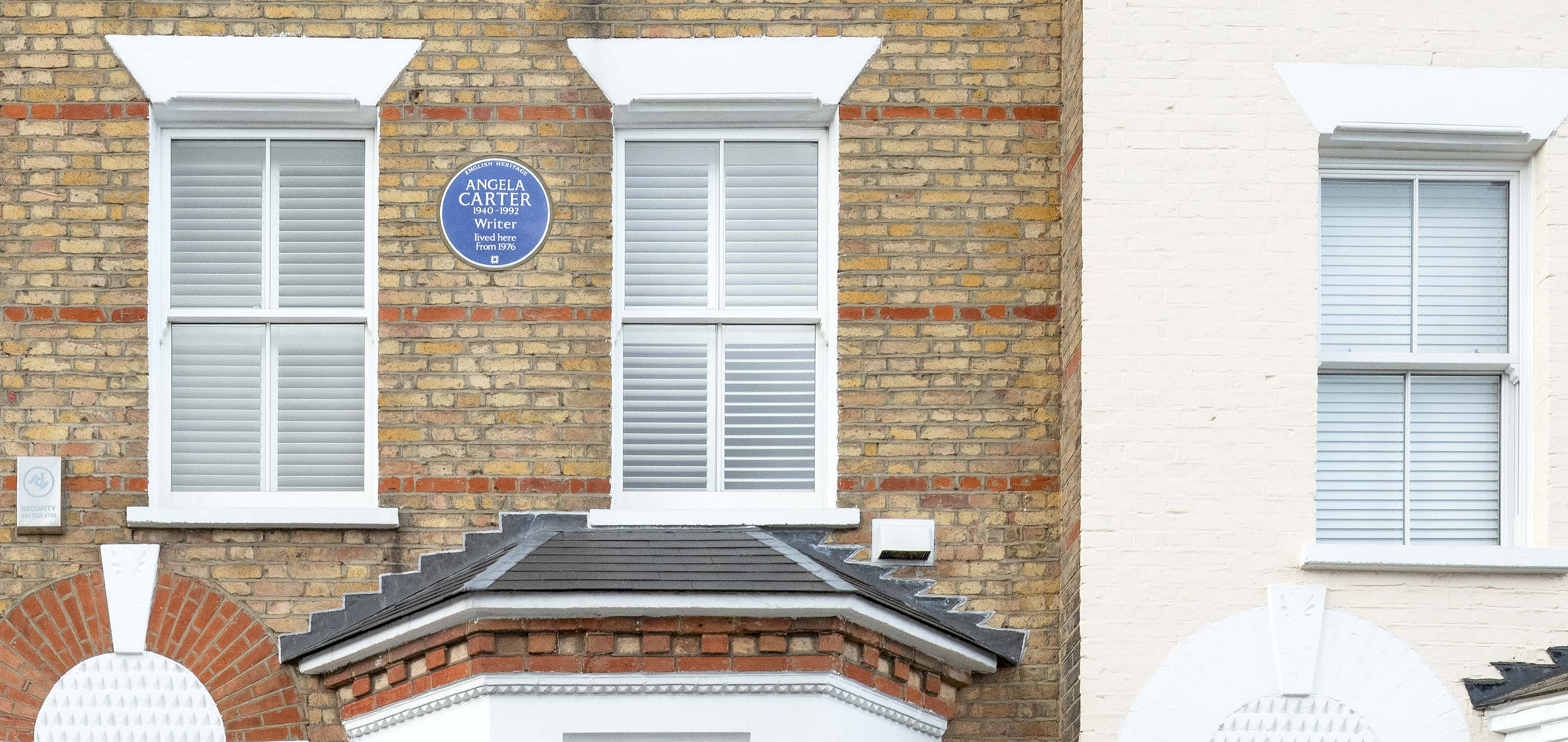 English Heritage has commemorated the legacy of award winning novelist Angela Carter with a blue plaque at her former home in Clapham.
It was at this house, 107, The Chase, that Carter spent the last sixteen years of her life. She often tutored her then student, Kazuo Ishiguro, at the kitchen table and received fellow writers – J.G. Ballard, Ian McEwan, Salman Rushdie – as guests. Author Salman Rushdie, said: 'Angela Carter was incredibly kind and generous to young writers, including me. She was also one of the true originals of English literature, both fabulist and feminist, and her richness of language was and remains a treasure.'
 
Carter's unique, witty and widely acclaimed novels include Nights at the Circus, with its unforgettable trapeze-artist heroine, and Wise Children, a comedy about seventy-five-year-old twin chorus-girls. 
 
The English Heritage London Blue Plaques scheme is generously supported by David Pearl and members of the public.
DISCOVER ANGELA CARTER:
Once upon a time fairy tales weren't meant just for children, and neither is Angela Carter's Book of Fairy Tales. This stunning collection contains lyrical tales, bloody tales and hilariously funny and ripely bawdy stories from countries all around the world- from the Arctic to Asia - and no dippy princesses or soppy fairies. Instead, we have pretty maids and old crones; crafty women and bad girls; enchantresses and midwives; rascal aunts and odd sisters.

This fabulous celebration of strong minds, low cunning, black arts and dirty tricks could only have been collected by the unique and much-missed Angela Carter. Illustrated throughout with original woodcuts.
This bestselling collection of stories extols the female virtues of discontent, sexual disruptiveness and bad manners Here are subversive tales - by Ama Ata Aidoo, Jane Bowles, Angela Carter, Colette, Bessie Head, Jamaica Kincaid and Katherine Mansfield among others - all have one thing in common: the wish to restore adventuresses and revolutionaries to their rightful position as models for all women

Reflecting the wide-ranging intelligence and deliciously anarchic taste of Angela Carter, some of these stories celebrate toughness and resilience, some of them low cunning: all of them are about not being nice.
Cover design by Jacqueline Groag

'This crazy world whirled about her, men and women dwarfed by toys and puppets, where even the birds were mechanical and the few human figures went masked . . . She was in the night again, and the doll was herself'

One night Melanie walks through the garden in her mother's wedding dress. The next morning her world is shattered. Forced to leave her rural home, she is sent to London to live with relatives she has never met: gentle Aunt Margaret, mute since her wedding day; and her brothers, Francie, whose graceful music belies his clumsy nature, and the volatile Finn. Brooding over all is Uncle Philip, who loves only the puppets he creates in his workshop, which are life-sized - and uncannily life-like.