#ViragoReads, Festive Recommendations Edition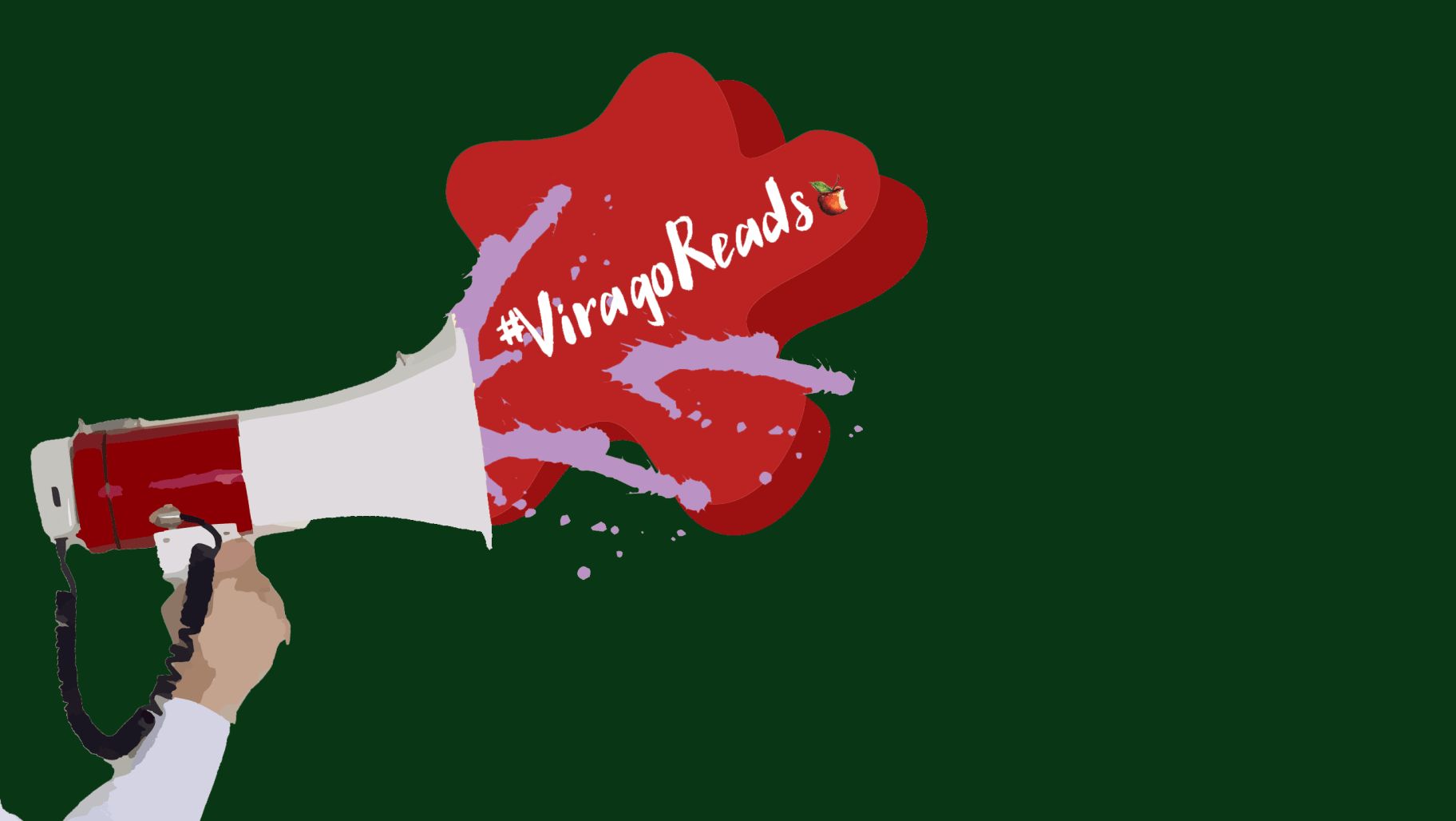 Fill your stocking with reading recommendations from the Virago team
You can't go wrong with the gift of a good book, so we've put our heads together and created our festive gift recommendations, read on for bookish inspiration for the Virago in your life.
---
Ailah Ahmed, 
Senior Commissioning Editor

:

You Play the Girl: on Playboy Bunnies, Princesses, Trainwrecks and Other Man-Made Women by Carina Chocano

I wish I could give a copy of this to every woman I know. You Play the Girl provides a feminist reading of a wide range of subjects: Playboy magazine, Pretty Woman, Amy Schumer and – my personal favourite – Frozen (Read this book to discover why Elsa has powers but actually has no power). Carina Chocano's razor-sharp reading of women on screen could not be more timely.

Dear Friend, From My Life I Write To You in Your Life by Yi-Yun Li

I'll be giving this to my introvert friends!

Li was hospitalised in a psychiatric unit and explored her own relationship with literature and dead writers as a means of recovery. This is a book about reading and thinking. It is the perfect book to reflect on the close of the year. Li creates an amazing intimate reading experience while being sort of evasive about her true self. It is unlike anything else I've read.
---
Amelia Ried, Publicity Assistant
:
The Surreal Life of Leonora Carrington by Joanna Moorhead
I'll be giving this gorgeous book to my friend who is a curator in a London gallery to continue her love for surrealist paintings, and to introduce her to Joanna Moorhead's extraordinary discovery that her long-lost cousin is one of the last living surrealists. I hope Leonora Carrington's rebellious spirit will encourage her to defy expectations and find her own voice in the art world.  
Who Thought This Was a Good Idea? by Alyssa Mastromonaco
I'll be gifting this hilarious and unique White House memoir published by Little, Brown to my friend who read American Studies at university. Written by the former deputy chief of staff to Obama and with never-before-seen photographs by White House photographer Peter Souza, I hope this book will give her a more intimate portrait of the former POTUS, reveal how one powerful woman repeatedly challenged the White House, and help drown her Trump sorrows!
---
Donna Coonan, 
Editorial Director, Virago Modern Classics:
@DCoonan3
This year, the adults in my family have agreed not to buy each other presents, but to donate to charity. I'll be supporting http://safepassage.org.uk/. Therefore, my recommendations are children's books. 
The Phoenix and the Carpet by E.Nesbit
In the last year and a half, my boys have listened to us reading the Harry Potter series most nights, and we're coming to an end, so for Christmas, we're taking them on a trip to Harry Potter World (shhh!). But in their stockings, Santa is going to introduce them to J. K. Rowling's godmother. Nobody has influenced children's literature as much as Edith Nesbit: time-travel, parent-free adventure, magic worlds and fantastical creatures – she pioneered it all! Without Nesbit, there would be no Harry Potter, no Narnia, no Swallows and Amazons. Last year, I couldn't find any editions that included the original, enchanting illustrations that are so integral to the books,  so this year we published seven of them ourselves. I'll start my children on the Psammead trilogy – I can't wait for them to meet Fawkes' great grandfather in The Phoenix and the Carpet.
The Invisible Child and The Fir Tree by Tove Jansson
I am giving Tove Jansson's The Invisible Child and The Fir Tree to every friend, child and adult, that I know. There are two sweet stories here: one is a touching tale about a child who has been so neglected that she becomes invisible;  the other is a funny story about how overwhelming Christmas can be (the wise moomins are right to be afraid of the terrible Christmas god, attempting to appease it with eggnog, presents, stolen fir trees, etc). Not only is this a beautifully produced little book, but at least £4.00 from each copy sold goes towards supporting Oxfam projects that help women and girls worldwide escape from poverty and abuse. It's two gifts in one.
---
Grace Vincent, 
Senior Publicity Manager

:

Love & Fame by Susie Boyt

I plan to give Love & Fame by Susie Boyt to my mum for Christmas. When I read it, I just loved Susie's unique way of seeing and writing things and how she tackles difficult topics with a light touch and humour. I think my Mum will love sitting by the fire with this great novel on show business and grief.

I realise I'm very late to the party, but listened to The Power on audio book a couple of months ago and thought it was amazing. It looks at women becoming the dominant gender when they begin to develop an electrical power. I think my best friend will love this, she's a big fan of Margaret Atwood and I think they're very similar in style.
---
Hayley Camis, Press Officer:
Outsiders: Five Women Writers Who Changed the World by Lyndall Gordon
I'll be gifting this beautiful hardback to my high-flying lawyer friend who often fantasises of going back to university to do her Victorian Literature PhD. I hope this excellent group biography of Mary Shelley, Emily Brontë, George Eliot, Olive Schreiner and Virginia Woolf will provide her some respite from courtroom dramas and inspires her to find her voice and use it. 
Good Night Stories for Rebel Girls by Elena Favilli, Francesca Cavallo
This is one of those tricky books to gift as it is so beautiful you just want to keep it for yourself, which is why it is on my Christmas list too! I'll be gifting it to my best friends son, who I know will be in awe of the 100 remarkable women on its pages and I hope will be more open to challenging gender stereotypes as he grows up.
---
Jonny Keyworth, 
Senior Marketing Executive

:

You should gift this book this Christmas to someone who really should have read it already. And if they have read it already, you are giving them an opportunity to re-gift to another friend who hasn't read it. Book karma. 

Attrib and Other Stories by Eley Williams

If you like words, you'll undoubtedly enjoy this short story collection – it's FULL of them. And not just any words- it's interesting words, words you don't know the meaning of and words you enjoy the sound and feel of. All neatly knitted together into stories about tubes, rosettes and swimming pool covers. A book for the word lovers.
---
Kate Doran, Deputy Marketing Director:
Radical Hope, edited by Carolina de Robertis
Hope, passion, courage. We could all do with a dose of these this Christmas as a new year approaches. Radical Hope is an inspiring collection of letters from some of our very best writers and perfect for dipping in and out of while the rest of the family have collapsed after too much Christmas pudding.  
No Christmas passes by without me gifting at least a handful of cookbooks, mostly ones I'd like to receive myself. I can think of several people I'd like to give Feasts to – Sabrina Ghayour's recipes are both exotic and achievable and the book itself is a thing of beauty even if you don't make a single thing.  
---
Lennie Goodings, Publisher: 
The Collected Stories of Grace Paley
The Virago book I would give for Christmas is The Collected Stories of Grace Paley because I think the hallmarks of good fiction are all here: she transports the reader (in this case, to the Bronx in New York City); she makes you marvel (how can you create an almost entire life of a story through dialogue); she makes you laugh (New York Jewish humour, I suppose) and she makes you care, deeply.  I knew Grace Paley and when I read these stories her voice and compassion and hilarity come flooding back.
Women & Power: A Manifesto by Mary Beard
From a list that is not our own – from the clever Profile Publishers – I would choose to give people Mary Beard's Women & Power: A Manifesto.  What a voice.  In fact, I have already bought four copies.
---
Madeleine Hall, Senior Digital Marketing Manager:
Heartburn by Nora Ephron
At this time of year, every year without fail, I gift more books than my bank balance can handle: simply because a book can take you places a box of chocolates can't! This year I am gifting Heartburn by Nora Ephron. In the current climate we all need a bit of humour and Nora is the woman for the job.
200 Women edited by Ruth Hobday
I am also giving, to the brilliant women in my life, without whom I would be nothing, 200 Women. This beautiful collection is sure to empower and I hope it will inspire women (and men) all over the world to celebrate womankind throughout 2018 (incidentally, 2018 marks 100 years since the passing of the 1918 Representation of the People Act which gave some women the vote for the first time and paved the way for the introduction of universal suffrage 10 years later, which saw women win equal voting rights to men). It features our very own Lennie Goodings, so you know it's good, and a percentage of the book's revenue will be distributed to organisations nominated by the women featured in the book.
---
Sarah Savitt, 
Publisher
:
My Cousin Rachel by Daphne du Maurier
A lot of us are feeling overwhelmed by the amount of news at the moment, so I've been finding solace and huge pleasure in reading or re-reading classic fiction. Luckily I work at Virago, so there is a lot to choose from! Prompted by the new film adaptation, I read My Cousin Rachel for the first time this autumn and was, like Philip is by his cousin Rachel, completely bewitched. And even though I read it partly to distract myself from the news, I couldn't help thinking that it is a fascinating book about toxic masculinity – as well as a completely delicious brew of doomed love, desire, obsession, revenge, Cornish and Italian landscapes and midnight revelations.
Conversations with Friends by Sally Rooney
I read this funny, thoughtful, sharp debut novel over six months ago and I've found myself thinking about it often ever since. It's one of the most impressive debuts I've read for ages. Sally Rooney is so good on money, sex, women's bodies, hunger, ambition, betrayal and of course friendship. And, appropriately, it's a book I've really enjoyed having conversations about with my friends, so at least one of them will find this in their Christmas stocking.
---
Let us know what books you will be giving this festive season on Twitter @ViragoBooks using #ViragoReads.
Plus, click here to discover more Virago authors.