OurShelves with special guests Aminatou Sow and Ann Friedman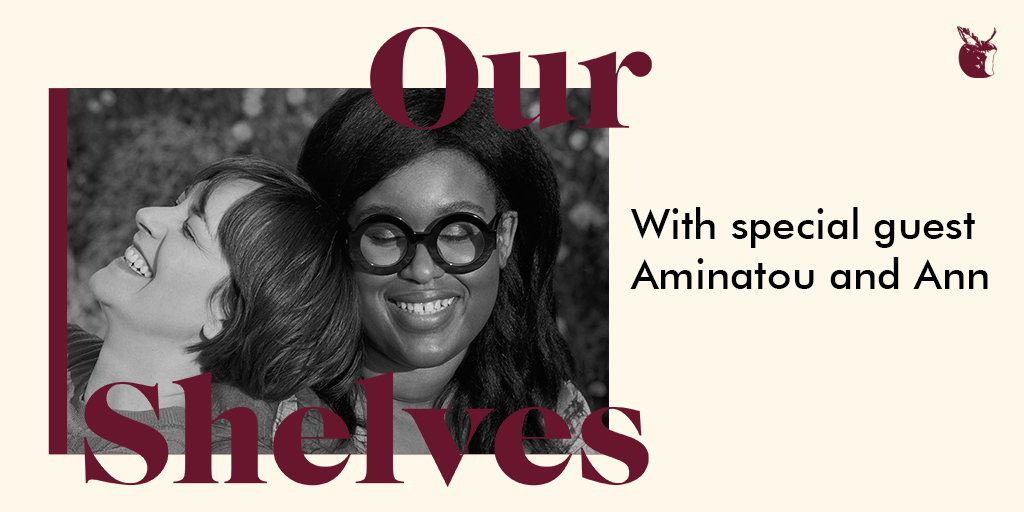 What does friendship mean to you?
In this episode of OurShelves Lucy Scholes interviews Aminatou Sow and Ann Friedman, creators of the hit podcast; Call Your Girlfriend. In this episode Lucy, Ann and Aminatou talk about fighting for a radically different future, the comfort of being read to and the sex scenes in Normal People.
Click here to listen.
Aminatou Sow:
On the shelf
All About Love. Jordan, our Associate Producer recommended it to me and it's been a real balm. Another good one is Sister Love: The Letters of Audre Lorde and Pat Parker
On your mind
Yes, We Mean Literally Abolish the Police by Mariame Kaba for New York Times Opinion
On repeat
I have rewatched all the sex scenes in Normal People . . . because they are so normal and great!
Pass it on
Mama Day. Given to me about our wonderful new friend and editor, Carrie Frye
On the pedestal
Ann Friedman! Yesterday, today, tomorrow and forever.
On the wall
A (new to me) picture of my mother and I at the beach. She passed away years ago and it's so lovely to see old pictures of memories I don't remember.
On the nightstand
Barbara Pym's Quartet in Autumn and Zadie Smith's Intimations
Ann Friedman:
On the shelf
Lately I find myself thinking about bell hooks' All About Love: New Visions, which I first read probably 10 years ago. My feminism was founded on pushing back against injustices enshrined in laws, policies, society, organized religion. It took me a long time to see it as also a source of forward-thinking possibility. And this book really helped me do that.
On your mind
What Is an Anti-Racist Reading List For? by Lauren Michele Jackson for Vulture
On repeat
The comforting quarantine TV I've returned to again and again is low-stakes crafty competition shows: The Great Pottery Throw-Down, the Big Flower Fight, etc.
Pass it on
I reread Octavia Butler's Parable of the Sower last year and have recommended it countless times since then.
On the pedestal
I swear this is not a way of ducking your question, but I have to say Aminatou Sow. When it comes to public figures and strangers, it's always easy to admire certain aspects of what they do, but you never see the full picture. I feel confident putting Amina on a pedestal because I have seen how she operates and holds to her values in all kinds of situations, even when crowds aren't watching. And what's more worthy of admiration than that?
On the wall
I have a photo of me and my friend Josh– who has been a close friend since high school– from the first year of our friendship. It's from the pre-digital era when photos with friends were rare, and it was actually printed in the high-school photo lab as a mutual friend's assignment. So I treasure it.
On the nightstand
Jenny Offill's Weather, Evette Dionne's Lifting As We Climb, Samantha Irby's Wow, No Thank You, and Emily Wilson's translation of The Odyssey—which is always on my bedside table because it's relaxing to read a passage before bed.
Tune in next time for more conversation about books, feminism and culture.