Caring For Others is a Feminist Issue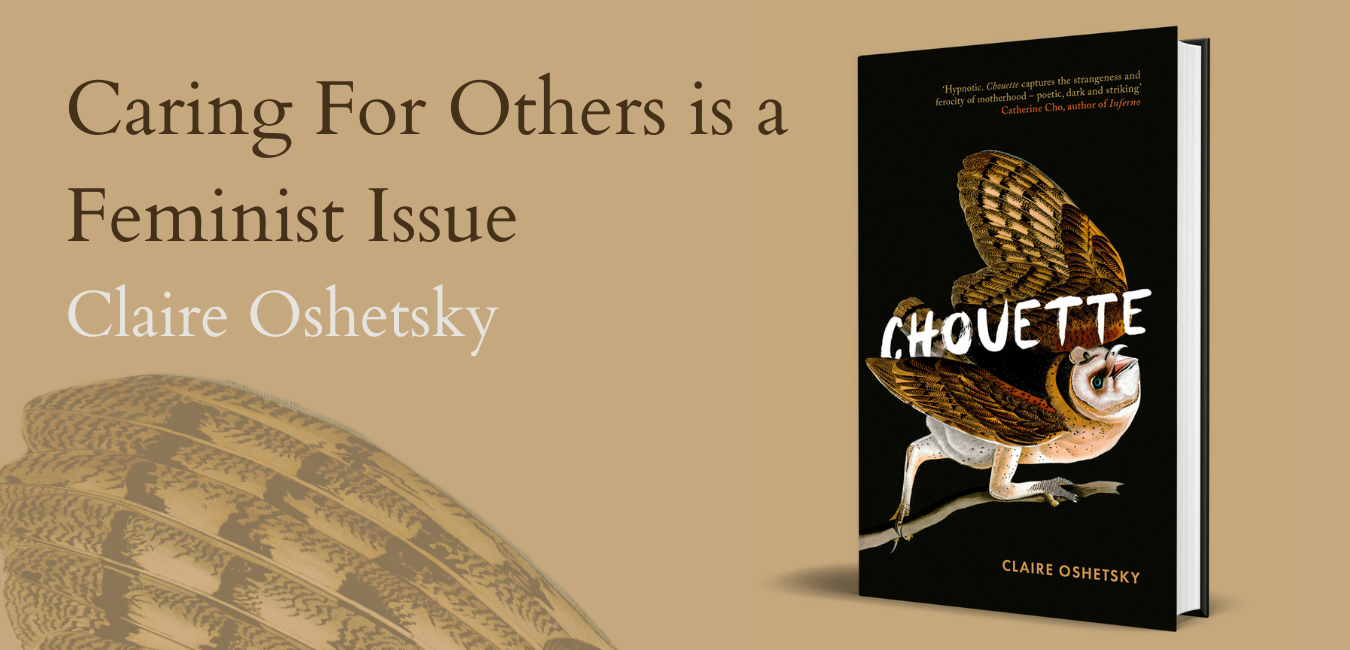 by Claire Oshetsky
When I was younger I used to define personal success solely in terms of my career. I was making a good living as a professional writer. My first novel had just come out. My essays and articles were being published in big-circulation magazines and newspapers. I specialized in science and technology writing, and I loved being one of comparatively few women journalists writing in these fields.
Instead of continuing along this bright career path, though, something else happened. My mother got sick. My father got sick. My two young children were diagnosed with disabilities and needed someone at home to look after them. I spent the next fifteen years caring for them all. I didn't write. I didn't have the time. And while I can't imagine more personally gratifying work, it was work that had no value in economic terms, and when it was done what I felt was: worthless.
While I still believed in the choice I'd made to stay home and take care of my family, I didn't fully respect that choice. Not really. I still defined success—my success—in terms of financial independence, achieved through work outside the home. Work that paid a salary. Instead of making any sort of progress toward this type of success, I'd allowed myself to become financially dependent on my partner. I'd spent most of my adult life doing work I thought of as "less-than."
Eventually I found my way past these self-sabotaging thoughts by making them the subject of my new writing. My new novel Chouette is a story about a woman who finds herself unexpectedly taking care of a disabled child, when she had other plans. As I wrote, I found myself re-examining my beliefs about success, and about feminism. The success I'd once believed in was defined by success outside the home. The feminism I'd once believed in was all about leaving the work of home and family to some other person, so that I'd be free to join the real world, and do important things. It seemed I'd outgrown that way thinking. I'd begun to believe that any feminist philosophy that doesn't place the highest value on the work of caring for others—the work done by our mothers and grandmothers and great-grandmothers—is incomplete and misleading.
The work of home and family can't be left behind, you see. Someone needs to do it. It's necessary work. We are all dependent on others at some stage in our lives. We all may be faced one day with a loved one—a parent, a spouse, a child—who is completely dependent on us. It's still predominantly women who work in the caring professions, whether as an unpaid family member or as a professional carer. Confoundingly, even after over a century of rapid and continual feminist progress, this work seems to be given less respect today than it was in times when caring for others was a woman's only option.
I've come to believe that the work of caring for others is a critical feminist issue. Maybe it's the most important issue women need to solve for themselves before real gender equality is possible. We used to live in a world where a man's career success often depended on the unpaid contributions of his spouse. Now we live in a world where a woman's career success often depends on the underpaid contributions of other women—women working in assisted living facilities, or as sitters, or as preschool workers. Should we call it progress when so many women are left doing work that is so important, and yet so disrespected and so poorly paid?
There are people in this world—women, mostly—for whom caring for others is a natural vocation. They find deep meaning in this work and need no other validation to know their own value. Just now these women find more support for their life choices, and more sense of community, on the conservative side of the political spectrum. A brand of feminism that equates success with individual achievement and economic independence hasn't made them feel welcome.
And there are also people in the world—also women, mostly—who haven't had the luxury of, or the interest in, full-time caring for their families. Because of the pandemic, though, they've been harshly reminded that the work of caring for family typically falls to women, no matter what their political beliefs, economic situations, or personal aspirations. Women throughout this pandemic have suddenly been thrust back into the work of caring for their school-aged children. They've lost hours of paid work. They've lost two years of seniority. They've lost jobs.
Truth be told it still feels reactionary and unnatural when I hear myself thinking that the work of caring for our families—work women have fought so hard to leave behind, as they take their rightful place in the world—is a feminist issue. But if we don't make the necessary structural and cultural changes for this work to become both personally and financially rewarding, then feminist progress will surely stall, and it's the women who will be left behind.