Virago looks forward to 2021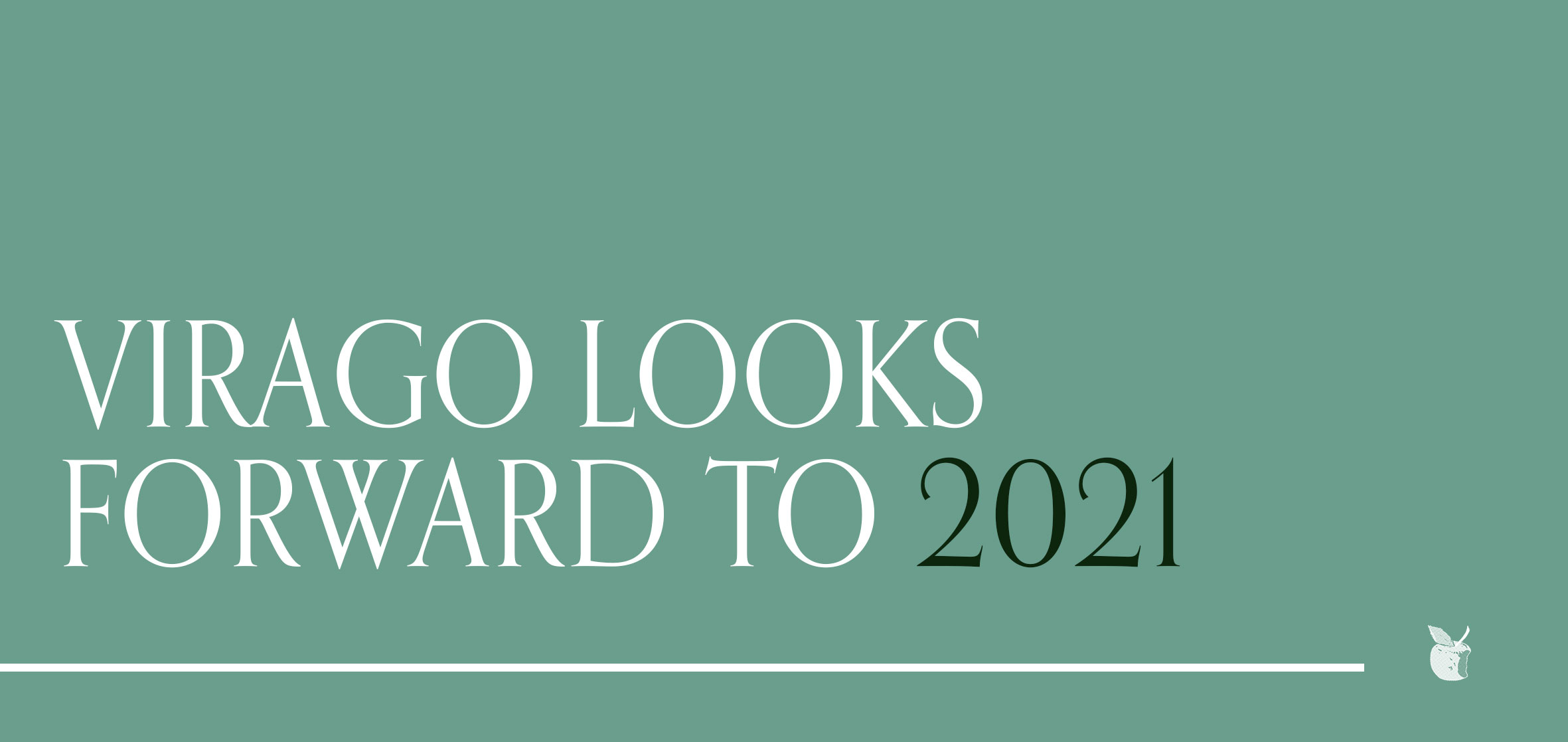 I think it's safe to say that everyone is looking forward to 2021, for many different reasons: the roll-out of the vaccine, the first American vice-president who is a woman of colour, as well as the simple psychological boost of a fresh start.
Here at Virago, we're looking forward to all of those things, but we're also very excited about the writers who we'll be publishing in 2021. Here's a preview of just some of their books . . .

You may know Stella Duffy from her work on radio, in the theatre or as a campaigner – but if you haven't read her fiction, you've been missing out. Ali Smith describes Duffy as 'a writer who never lets you down' and Lullaby Beach (February) will grip you from the first line. It's a novel of three generations of a family whose fortunes rise and fall along with the fate of their English seaside town, and features an unforgettable heroine in Kitty, a young working-class woman who becomes a nurse and a matriarch, all the while hiding the truth about her life from those around her.
Virago began acquiring graphic novels a few years ago and we are delighted to welcome Una, author of award-winning Becoming Unbecoming, to our list in 2021. Eve (March) is set in the near future, in a recognizable world which is sleepwalking into totalitarianism. When disaster strikes, Eve sets out on a her own to find a new way to live. It's a story of hopeful futures and painful pasts which feels more relevant with each passing day.
Chibundu Onuzo is an award-winning novelist (and singer!) who has won praise from writers including Helon Habila and William Boyd. Her third novel, Sankofa (June), tells the story of a mixed-race woman who discovers that the father she never knew became the dictator of a West African nation – and that he is still alive. So begins a gripping, moving and unexpectedly funny quest which raises questions about inheritance and identity.
Often hailed as a modern-day Muriel Spark, Susie Boyt's mordant wit and vivid style are at their brilliant best in her new novel, Loved and Missed (August). When your adored daughter is lost in a fog of addiction and you are left literally holding her baby with little else but a glut of will-power and a daring creative zeal, is it possible to triumph? A different sort of love story, a beautiful tale of devotion, a harrowing novel shot through with dark humour; this highly unusual and marvellously absorbing book is a moving tragicomedy by the author of My Judy Garland Life.
Finally, you have to wait until November to read Chouette by Claire Oshetsky – but we promise the wait will be worth it. When Tiny gives birth to an owl baby, her daughter is immediately an outlier in a world full of humans – but Tiny is determined to allow her child to be herself. Inspired by the author's own experience of parenting non-conforming children, Chouette is a captivating story of fierce love.

Lara Thompson won our inaugural Virago/The Pool New Crime Writer Award with her debut One Night, New York (January). It's a detective story, a romance and a coming-of-age tale about which Erin Kelly says, 'From its breathless opening pages, One Night, New York transports the reader to the glitter and the danger of old New York. A page-turner with style.'
A mother makes the ultimate gift to her daughter – she offers to be the surrogate for her own grandchild. But this act of altruism quickly spirals into a nail-biting rollercoaster of moral dilemmas, corrosive envy and long-buried secrets. For fans of Lullaby and Apple Tree Yard, Susan Spindler's Surrogate (April) is an addictive read with much to say about motherhood, menopause and sexuality, and which Tessa Hadley describes as 'moving and exciting and moral – immensely intelligent.'
Virago is delighted to be publishing Megan Abbott, one of the most intelligent and imaginative crime writers working today, for the first time. Her new novel, The Turnout (July), is about two sisters with a dark past who run a ballet school – and you will never think about The Nutcracker in the same way again. Harriet Tyce says, 'Abbott creates a dark and mesmerising world and, as always, is so brilliant at portraying women and girls and their competition and complexities.'

The Secret Life of Dorothy Soames (February) by Justine Cowan is a revelatory investigation into the history of the Foundling Hospital and one girl who grew up in its care – the author's own mother. There are so many amazing strands to this book, from family secrets to the history of child development to how the Foundling Hospital influenced some of Britain's most famous artists, including Handel and Dickens. 'Page-turning and profoundly moving' (Virginia Nicholson), it's for anyone who loved On Chapel Sands or East West Street.
The Light of Days (April) by Judy Battalion is another incredible untold story – that of the Jewish women who were an integral part of the resistance during World War Two in Poland. A story of bravery and defying expectations, Philippe Sands has described this book as 'original and compelling, an untold story of rare and captivating power.'

In My Autobiography of Carson McCullers (March), Jenn Shapland, a young researcher, uncovers love letters between beloved American literary writer Carson McCullers and a woman named Annemarie. This is a genre-defying examination of identity, queerness, memory, obsession and love and was a National Book Award Finalist. Virago favourite Maggie Nelson gave it this rave review: 'In lucid, distilled, honest prose, Jenn Shapland teaches us about McCullers, the desire for recognition, loneliness, the complexities of queer history, the seductions and resistances of the archive and, all throughout, love.'
Easy Beauty (July) by Pulitzer Prize-nominated writer and philosopher Chloé Cooper Jones is the first of three extraordinary memoirs which we publish this summer. Cooper Jones was born with a rare congenital disorder and it was only once she became a mother that she realised she had to give herself permission to live freely, in a way that honours the bodies we are born with. This is a gorgeous memoir about ability, and how we see others and ourselves.
Edith Widder has had a brilliant life in science, including leading the team who first captured a giant squid on film, receiving a MacArthur Genius Grant and becoming CEO of the Ocean Research & Conservation Association. Below the Edge of Darkness (August) tells this amazing tale of adventure, exploration and invention, as well as taking us back to the origins of her interest in the deep sea and the amazing creatures who live there.
When Joan Bakewell, Labour Peer, author and famous champion of older people's right to a good and fruitful life, now in her 80s, decided that she could no longer remain in her old home, it meant selling up, ridding herself of possessions and downsizing. In The Tick of Two Clocks: A Tale of Moving On (August), Joan Bakewell tells us a story of our times. As she says: 'Old age is now a major and important part of life: It should command as much thought – even anxiety – as teenagers give to exam results and young marrieds how many children to have . . . It's the next segment of life.'

Started by Tarana Burke, the #metoo movement has become a truly global phenomenon. In Awakening (July), Meighan Stone and Rachel Vogelstein follow activists fighting sexism in Brazil, China, Nigeria, Pakistan, Egypt, Tunisia and Sweden, making a powerful argument for women looking beyond their own borders to join forces and create meaningful change.
In January we say happy birthday to Patricia Highsmith, born one hundred years ago, by publishing a new selection of her short stories, including some which have never been published. Introduced by Carmen Maria Machado and with a gorgeous jacket, Under a Dark Angel's Eye marks the beginning of our year of celebrating this darkest and strangest and most brilliant of writers.
Attia Hosain was an important twentieth century Muslim writer, who influenced many authors, including her great-niece Kamila Shamsie. Hosain moved from Lucknow to England in 1947, and writes vividly of pre-Partition India, depicting characters who are caught between worlds and cultures. We are publishing her only novel Sunlight on a Broken Column and a collection of stories, Phoenix Fled (July), both introduced by Shamsie, with beautiful new covers.
And there's more to come, so please do stay in touch and sign up for our newsletter to hear about all of our news. We look forward to hearing from you.