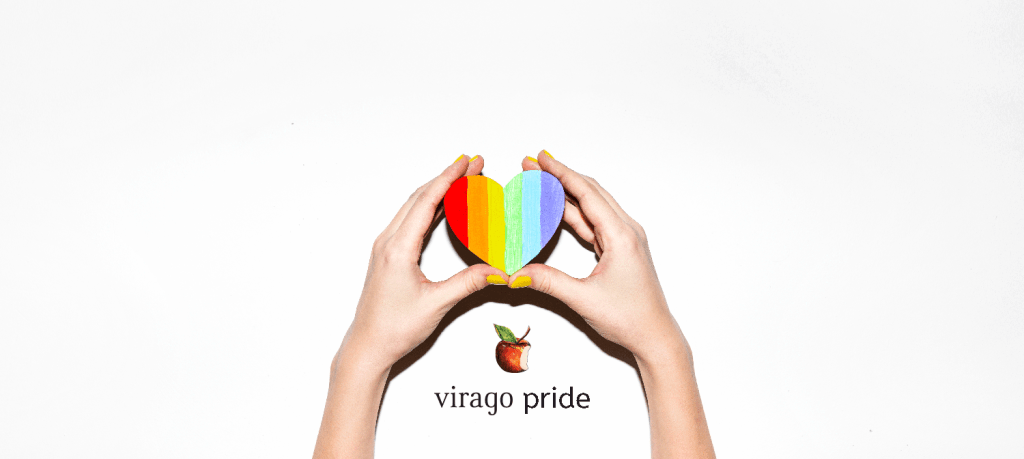 Virago Pride: Celebrating Forty-Five Years of LGBTQ+ Publishing
Virago has a long history of standing at the forefront of issues about gender, identity and sexuality.We've been watching (and taking part in) Pride celebrations with unguarded joy throughout June. As our own token to these celebrations we are here to share a snapshot of some of our favourite LGBTQ+ titles:
The Well of Loneliness by Radclyffe Hall
Banned on publication in 1928, after official medical advice suggested that it would encourage female homosexuality and lead to 'a social and national disaster', The Well of Loneliness, a powerful novel about the love between two women, brought about one of the most famous legal trials for obscenity in the history of British law.
Stephen Gordon (named by a father desperate for a son) is not like other girls: she hunts, she fences, she reads books, wears trousers and longs to cut her hair. As she grows up amidst the stifling grandeur of Morton Hall, the locals begin to draw away from her, aware of some indefinable thing that sets her apart. And when Stephen Gordon reaches maturity, she falls passionately in love – with another woman.
Carol by Patricia Highsmith
First published pseudonymously in 1952 as The Price of Salt, Carol is a hauntingly atmospheric love story set against the backdrop of fifties New York, recently adapted into a multiple Oscar-nominated film by Todd Haynes.
Therese is just an ordinary sales assistant working in a New York department store when an alluring woman, Carol, walks up to her counter. Standing there, Therese is wholly unprepared for the first shock of love. She is an awkward nineteen-year-old with a job she hates and a boyfriend she doesn't love; Carol is a sophisticated, bored suburban housewife in the throes of a divorce and a custody battle for her only daughter. As Therese becomes irresistibly drawn into Carol's world, she soon realises how much they both stand to lose . . .
The Charioteer by Mary Renault 
First published in 1953, The Charioteer is a tender, intelligent coming-of-age novel and a bold, unapologetic portrayal of homosexuality that stands with Gore Vidal's The City and the Pillar and James Baldwin's Giovanni's Room as a landmark work in gay literature.
Injured at Dunkirk, Laurie Odell, a young corporal, is recovering at a rural veterans' hospital. There he meets Andrew, a conscientious objector serving as an orderly, and the men find solace in their covert friendship. Then Ralph Lanyon appears, a mentor from Laurie's schooldays. Through him, Laurie is drawn into a tight-knit circle of gay men for whom liaisons are fleeting and he is forced to choose between the ideals of a perfect friendship and the pleasures of experience.
In her 78 years of life, Mary Renault made the formerly untouchable topic of homosexuality, if not normal and irrelevant, at least considerably more human.
Confessions of a Failed Southern Lady by Florence King
Have you read this titillating and outrageously funny memoir about growing-up different in the Old South?
Granny worked so hard at my rearing. She was a frustrated ladysmith and I was her last chance. . . This is the story of my years on her anvil. Whether she succeeded in making a lady out of me is for you to decide, but I will say one thing in my own favour before we begin. No matter which sex I went to bed with, I never smoked on the street.
When Florence King was born, her Granny, a would-be Virginia grande dame, moved in. 'Anybody could have a family,' writes King. 'She wanted a race all to herself.' Granny's dream of raising the perfect Southern belle failed dismally with her own daughter, a chain-smoking, baseball-playing tomboy given to wild expletives. Florence is Granny's last hope . . .
Tipping the Velvet by Sarah Waters 
Piercing the shadows of the naked stage was a single shaft of rosy limelight, and in the centre of this was a girl: the most marvellous girl – I knew it at once! – that I had ever seen.
This year we celebrated the twentieth anniversary of Tipping the Velvet. The book that launched the career of one of Britain's most exciting and successful writers. Sarah Waters has written five subsequent bestselling novels, all of which have been filmed or are currently in production and she has received critical and popular acclaim and prize shortlists.  She was awarded the Stonewall Writer of the Decade in 2016.
A saucy, sensuous and multi-layered historical romance, Tipping the Velvet follows the glittering career of Nan King – oyster girl turned music-hall star turned rent boy turned East End 'tom'.
Darling Days by iO Tillett Wright
A raw, emotional memoir of a young person in search of an authentic self – a search for identity that speaks to all lost souls.
Unfolding in animated, crystalline prose, an emotionally raw, devastatingly powerful memoir of one young person's extraordinary coming of age – a tale of gender and identity, freedom and addiction, rebellion and survival in the 1980s and 1990s, when punk poverty, heroin and art collided in the urban bohemia of New York's Lower East Side.
Darling Days is also a provocative examination of culture and identity, of the instincts that shape us and the norms that deform us, and of the courage and resilience of a child listening closely to their deepest self. When a group of boys refuse to let the six-year-old play ball, iO instantly adopts a new persona, becoming a boy named Ricky, a choice the parents support and celebrate. It is the start of a profound exploration of gender and identity through the tenderest years, and the beginning of a life invented and reinvented at every step.
Alternating between the harrowing and the hilarious, Darling Days is the candid, tough, and stirring memoir of a young person in search of an authentic self as family and home life devolve into chaos until iO escapes to Germany and then England to become an amazingly talented, exciting, edgy artist and wonderful writer.
Trans Like Me by CN Lester 
What does it mean to be transgender?
How do we discuss the subject?
In this eye-opening book, CN Lester, academic and activist, takes us on a journey through some of the most pressing issues concerning the trans debate: from pronouns to Caitlyn Jenner; from feminist and LGBTQ activists, to the rise in referrals for gender variant children – all by way of insightful and moving passages about the author's own experience. Trans Like Me shows us how to strive for authenticity in a world which often seeks to limit us by way of labels.
Looking to the future.
This November we are publishing Crimson by Niviaq Korneliussen:
In Nuuk, Greenland . . .
Fia breaks up with her long-term boyfriend and falls for Sara.
Sara is in love with Ivik who holds a deep secret and is about to break promises.
Ivik struggles with gender dysphoria as their friends become addicted to social media, listen to American pop music and get blind drunk in downtown bars and uptown house parties.
Then there is Inuk, who also has something to hide – it will take him beyond his limits to madness, and question what it means to be a Greenlander, while Arnaq, the party queen, pulls the strings of manipulation, bringing a web of relationships to a shocking crescendo.
Crimson weaves through restlessness, depression, love and queer experiences to tell the story of Greenlanders through a unique and challenging form. The original text was written and published in the Greenlandic language.
---
We'd love to hear from you: what are your favourite LGBTQ+ novels? Let us know on Twitter using #ViragoPride.