The Little Book of Feminist Saints Q&A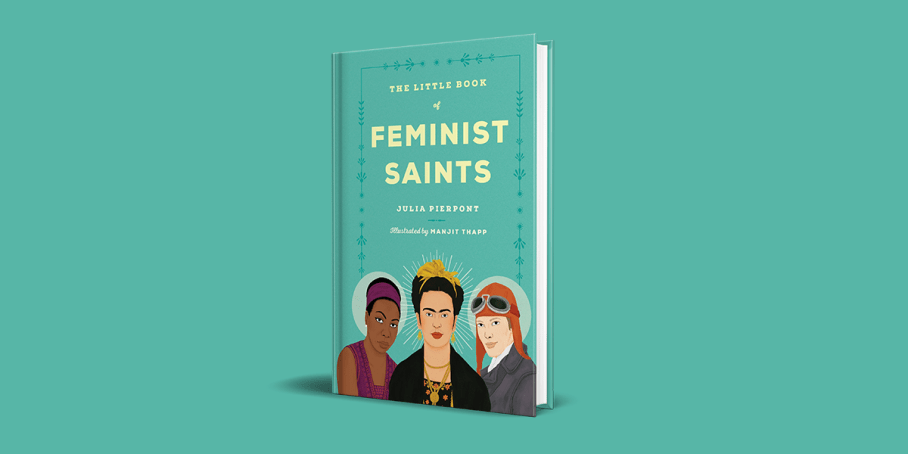 The Little Book of Feminist Saints is an inspiring, beautifully illustrated collection which honours one hundred exceptional women throughout history and around the world.
In this luminous volume, New York Times bestselling writer Julia Pierpont and artist Manjit Thapp match short, vibrant and surprising biographies with stunning full-colour portraits of secular female 'saints': champions of strength and progress. These women broke ground, broke ceilings and broke moulds – including:
Maya Angelou – Jane Austen – Ruby Bridges – Hillary Clinton – Marie Curie & Irène Joliot-Curie – Amelia Earhart – Artemisia Gentileschi – Grace Hopper – Dolores Huerta – Frida Kahlo – Billie Jean King – Audre Lorde – Wilma Mankiller – Toni Morrison – Michelle Obama – Sally Ride – Eleanor Roosevelt – Margaret Sanger – Sappho – Nina Simone – Gloria Steinem – Yayoi Kusama – Harriet Tubman – Mae West – Virginia Woolf – Malala Yousafzai
Julia, as the author, how did you go about the huge task of selecting the hundred women who changed the world to include in The Little Book of Feminist Saints?
My US editor, Caitlin McKenna, and I began by making and sharing lists of our own. Then we crowdsourced, turning to our families, colleagues and friends in different sectors. The list grew 400-strong, and could have gone on and on, but we knew we could only feature 100 women, and so we were faced with the disagreeable task of winnowing it down.
Manjit, how did you create the illustrations for each woman? Were there certain characteristics or elements from their stories that you picked up on?
The starting point for each portrait was reading through Julia's corresponding story. This would greatly inform the artwork and often there would be motifs mentioned that I could illustrate that would help connect the two. I'd also try to recreate the atmosphere and feeling I'd get from reading the draft into the illustration by using certain colours and poses.
We found the surprising connections you reveal between these powerful women particularly intriguing. Which qualities do you think they all share?
Julia: It was so exciting to discover the unexpected connections between women in the book. So many of them learned from one another, helped and even celebrated each other. We're talking about women with great personal ambitions, who felt it essential to hold one another up as well. That was inspiring.
Manjit: Strength, determination and perseverance.
Why do you feel it's so vital to share the wide range of stories and backgrounds of these feminist secular 'saints'?
Julia: The achievements of women haven't been documented for nearly as long or as widely as those of their male counterparts. The more familiar their stories become, the more empowered future generations of women will be – they won't have to imagine a female in charge, they will have grown up with these stories, and among living examples. And this must apply to women the world over if it's to really do good.
Manjit: Through history women's stories have often been excluded or are not as well known. It's important for us to recognise and acknowledge the history these women have made in their respective fields so that they aren't forgotten and can continue to inspire future generations.
How hopeful do you feel about the progress and changes in attitude towards the women's movement today?
Julia: It's unfortunate that the world has to go topsy-turvy any time we want to enact real change, but I've been fortified to see so many women taking a stand, marching a march, becoming politically active and supporting each other. There's just no room for complacency.
Manjit: It's incredibly empowering to see women coming forward and having their voices finally being heard and listened to. I think we still have some ways to go for equal rights for all women everywhere, and the non-binary, but I'm very hopeful.
If you could choose one more feminist saint to add to your book, who would she be?
Julia: I wish I could add a hundred more. Though there are several in the book, it would be fun to do a series of just contemporary women as well: Kirsten Gillibrand, Ava DuVernay and Alison Bechdel are a few that come to mind.
Manjit: I love that there is a blank page and empty frame for the reader to include their own feminist saint. I would add Tarana Burke, the creator of the #MeToo movement, who has worked to improve the lives of young women from marginalised communities.
The Little Book of Feminist Saints is out now, published by Virago
https://www.littlebrown.co.uk/books/detail.page?isbn=9780349011264
#FeministSaints