Helen Stevenson on Music and Love Like Salt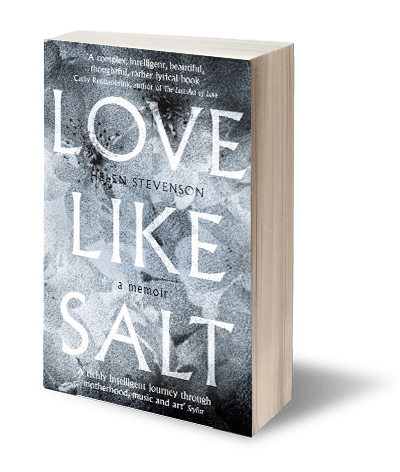 Helen Stevenson on Music and Love Like Salt
If I said I was a musician to a taxi driver I know they'd glance in the mirror and say: 'Classical?' I'd prefer it if they guessed I was a confident, smokey-eyed jazz singer, but they're too good at judging people by the way they move, talk, smile, for that. In my head I'm smokey eyed and deep voiced, but in reality I'm straight-backed and well-behaved, the product of a particular kind of musical training.
A lot of Love Like Salt is about making music, about the effect on the body and the mind of making music, the comfort, distraction, peace and satisfaction it brings.
When I make music with friends, the same pulse is common to us all. We sit, or stand and our eyes meet on the upbeat. We raise our instruments to our lips, draw breath, or place our fingers on the keys. As we  send messages down our neural pathways to those parts of our bodies which will act on the message and propel the music, we breathe as one, and whether in unison or in harmony we are inseparable, for the time it takes, for as long as it lasts. A lot of amateur musicians I know hardly ever listen to recordings. What they love is the tightrope suspense of the live performance, and most of the time they will want to be walking that tight rope themselves. In the thick of it. Between the point of departure, which is silence, and the point of arrival, which is silence, too, they hover and dance.
I teach piano too. Often it is agony. Difficulty comes into it, and boredom sometimes. There is repetition. I say to the children, remember we play the piano, the verb is 'play'. To practice is to play repeatedly – not the same mistakes over and over, but to play more easily, more convincingly, each time.  I hope some of them will continue to play their instruments into adulthood, and experience the joy of making music with friends, of conferring, deferring, considering, trusting, listening and responding, of making music live, keeping it live, using it to 'keep live' themselves.
I'll only ever be an amateur. From the age of around 12, that was all I was ever going to be. I say all – it is the greatest luxury, to do what you love some of the time. This breaking of silence, and, at the finish, restoring silence, this moment of making music is the perfect instance of the journey, not the arrival, being the thing. On the way, evoking the great emotions of life, we may make war, make love, make peace, make hay, make contact, or make merry even as we make our music. It is a way too of reaching out to touch the finger of the composer often across centuries, feeling their current pass through me, a source of rapture, and a way, with their help, of lighting lamps in the darkness which precedes our birth and falls after our death. A flickering light, sometimes, sometimes one which burns furiously, then dwindles, but it keeps us a-live, keeps us conscious of living.
Playlist
Dis, quand reviendras-tu? Barbara
Stabat Mater: Pergolesi
Breakdown: Jack Johnson
Adagio in B minor  K.540: Mozart
Mr Harris: Aimee Mann
Without Love from Hairspray
Mi Buenos Aires Querido : Daniel Barenboim and friends
–
Love Like Salt it Out Now in Paperback.