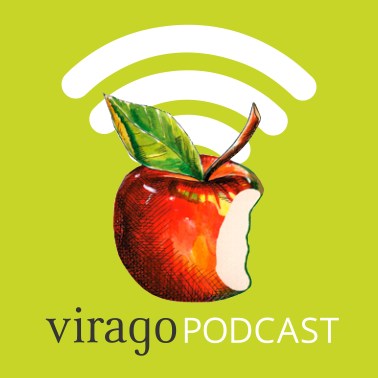 Virago Podcast
A monthly celebration of books, reading and writing brought to you by Virago Press, the international publisher of books by women.
Episode 1
Virago has been home to the wonderful Sarah Waters since 1998, when her debut novel Tipping the Velvet was published to rave reviews. Tipping the Velvet is an exuberant, exultant novel. It's saucy and sensuous and followers the glittering career of Nan King, oyster girl turned music hall star turned rent-boy turned East End tom turned feminist. It was a revolutionary novel.
Twenty years on, Sarah Waters is one of Britain's most acclaimed novelists; her novels have won praise and awards, and been adapted for theatre, film and television. She is one of our best-selling writers, praised by the critics and loved by you, her readers.
Sarah Waters launches our new Virago podcast: we met to discuss Tipping the Velvet and Virago's 20th Anniversary edition, for which she has written a new afterword.
Episode 2
This month, Sarah Dunant joins us to discuss In the Name of the Family, which we have just published in paperback. Conjuring up the past in all its complexity, horror and pleasures, In The Name of the Family confirms Sarah Dunant's place as the leading novelist of the Renaissance and one of the most acclaimed historical fiction writers of our age.
Episode 3
In October 2013 two teenage sisters left Oslo for Syria. What follows is the gripping, heartbreaking story of a family ripped apart. While Sadiq risks his own life to bring his daughters back, at home his wife Sara begins to question their life in Norway.

We spoke to author Åsne Seierstad about her new book, Two Sisters. Two Sisters is a powerful and gripping true account of a family torn apart – by the author of the international bestseller The Bookseller Of Kabul.
Episode 4
This month, we speak to Caroline O'Donoghue about her debut novel, Promising Young Women. Promising Young Women is a gothic, darkly witty novel about sex, power, work and being a young woman in a man's world. It is out now in hardback.
Episode 5
This month we have a double-header for you on the Virago podcast. First up we have Susie Boyt discussing her latest novel, Love & Fame. And then we have Rachel Seiffert in conversation with Lennie Goodings talking about her novel Boy in Winter and the recently rediscovered classic, The Seventh Cross by Anna Seghers.
Episode 6
To celebrate the 40th anniversary of our imprint, we sat down with Donna Coonan (Editorial Director of the VMCs) to discuss our baker's dozen of stunning, deluxe paperbacks and hardback anthology. Later in the episode, Donna speaks to the series designer, Hannah Wood, about the beautiful artwork created by illustrator, Yehrin Tong.
Throughout the podcast you will hear the Virago team speaking about each of the books included in the anniversary collection, each team member championing their favourite book from the VMC baker's dozen.
Episode 7

Lara Thompson won the first Virago/The Pool New Crime Writer Award for her novel One Night, New York in 2017.
This is the first episode of a series following Lara through the process of publication – from her writing life before winning the prize (featuring jealousy-inducing stories of a "Writing Shed"), to discovering she won the prize whilst eating in a Vietnamese restaurant and her experience and journey towards becoming a published author.
[Please note there is some background noise at one point in the episode due to building work happening outside!]
Episode 8
Deborah Frances-White is the creator and host of the hit podcast The Guilty Feminist. She is a stand-up comedian best known for her BBC Radio 4 show Deborah Frances-White Rolls the Dice which won the Writers' Guild Award for Best Radio Comedy. Her book, The Guilty Feminist, was a Sunday Times bestseller and described by Emma Thompson as 'essential reading for the planet'.
We spoke with Deborah just after the appointment of Brett Kavanaugh to the US Supreme Court, about traversing the boundaries of comedy and politics, and why comedy is so important to feminism.
Episode 9
Virago's Lennie Goodings spoke to Susan Fletcher about her beautiful new novel, House of Glass and we hear Susan read a passage from the novel.
As Tracy Chevalier has said, House of Glass starts 'as a ghost story but turns into something much more profound: a lyrical examination of how women carve lives out of a male-dominated society, even with a war looming that will change everyone.'